Why We Exist
Responding to the widely perceived gap between higher education and the employment marketplace, Amani Institute is preparing a new generation of leaders tackling the world's toughest problems.

Our name derives from the Swahili word for peace. The root word "aman" signifies peace or stability in every country in the arc from Morocco to Indonesia.
Mission & Vision
Our Mission: Develop professionals who create social impact

It is much more difficult to solve social problems than it is to solve business problems, and the consequences of missteps can be far-reaching. Angel Cabrera and Gregory Unruh | Being Global
Our mission is to develop professionals who create social impact by creating new models of education and training that enable people to develop new practical skills and experiences for their professional toolkit, a personal understanding of their own leadership journey, and the global networks necessary for long-term career success. All this while simultaneously reducing the high cost of a world-class global education.
As a result, we build much-needed talent and capacity in organizations addressing social problems, thus enabling more effective operations across the entire social sector.
Our Vision: A World Beyond Boundaries

All the interesting problems cross boundaries. Some straddle disciplines. Some require co-operation between business, government, academia and non-profit groups. So you have to train people to cross boundaries.

David Ellwood | Dean, Harvard Kennedy School of Government
The Amani Institute envisions a world beyond boundaries. These include boundaries between nations and, therefore, between peoples. Between disciplines and ideologies. Between the classroom and society. Between making a living and making a difference.
Our most profound problems cross national boundaries, requiring not just interdisciplinary thought but also interlocking experiences to understand them. They call upon problem-solvers to submit their whole selves in the service of creating sustainable change.
And in this world of accelerating problems, the most important thing to do is help more people become problem-solvers. We envision our community seeing themselves as global changemakers – able to operate flexibly and freely wherever they are called to go, living and working in ways that transcend boundaries.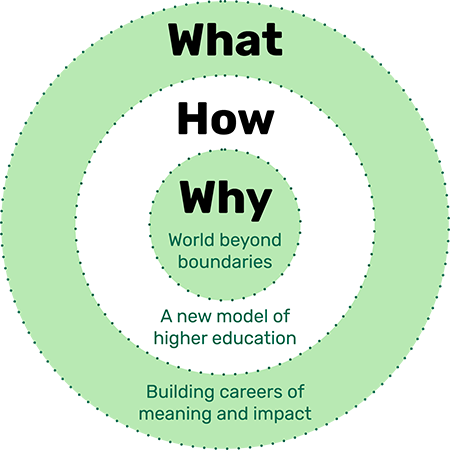 ---
Our Values

Vision
To see what is not, and ask why not
To look beyond your own position and identity to see what you can do
To set a new direction, for self, organization/community, and planet

Courage
To step into the unknown, and into possibility, without having all the answers
To hold steady in the face of both the seductions and threats of the status quo
To stand up when others can't (or won't)

Empathy
To see yourself as part of a larger whole
To burn for justice
To sense common ground when difference threatens

Changemaking
To build, not (just) critique
To scale the walls that stand in your way
To deploy not just skills and knowledge, but all parts of you

Global Mindset
To navigate different contexts, locations, and timezones
To see the hidden connections between people, ideas and systems, and build new ones
To catalyze impact across both perceived and actual boundaries
---
Why Not a University

McKinsey argues persuasively that a big part of the [talent shortage] problem is that educators and employers operate in parallel universes—and that a big part of the solution lies in bringing these two universes together. The Economist | The Great Mismatch
By not aiming to become a university, we retain the ability to stay innovative with regard to our education model, as well as be closely aligned with the needs of employers.
This is because what employers value in incoming employees isn't provided adequately by universities, and vice-versa, what universities do well isn't valued highly by employers. Therefore, we have a market failure in higher education. Though universities face a rising demand to provide more opportunities for experiential learning professional development, their orientation towards academic results means that they cannot supply what employers care most about.
By partnering extensively with universities, we hope to support their transition towards the type of education that both their students and employers desire.
---
Our Financial Model
Our financial model is similar to most educational institutions. We are a nonprofit organization because we aim to keep the price of our programs as low as possible, without sacrificing its world-class quality. We match the resulting shortfall by conducting executive programs for universities, foundations, NGOs, and companies. (This in turn extends our impact to larger groups of people.) We are a financially sustainable social enterprise; the vast majority of our operating expenses are covered through program fees and earned income.
In the United States, we have 501c3 non-profit status, which allows any philanthropic contributions to be tax deductible (our 990 form/tax return is available on request). All donations and grants go 100% to supporting leaders of social change from disadvantaged backgrounds.