Feb 05
Amani Conference: The Future of Impact Work
Para construir o movimento por carreiras de propósito e impacto social, desenvolvemos uma variedade de eventos desde 2013, no Quênia, Brasil e Índia, que atraíram mais de 3 mil pessoas até o momento. Esses eventos são projetados para ajudar as pessoas a entender como construir uma carreira significativa, se conectar com outros líderes de inovação social e entender como o mundo do trabalho está mudando globalmente.
Conferência Global Amani Institute 2019
Nossa conferência Global é um evento de uma semana, no qual membros de nossa comunidade global de mais de 400 profissionais se reunirão para explorar o futuro do trabalho de impacto.
Convidamos um público ávido a construir carreiras com impacto, bem como especialistas que estão profundamente imersos em criar mudanças além das fronteiras para conectar pontos e criar sinergias.
Os eventos abertos acontecerão de 3 a 5 de fevereiro de 2019, seguidos por um retiro fechado para os bolsistas Amani.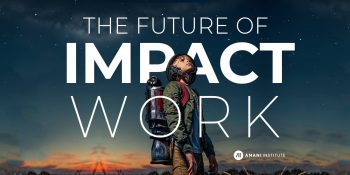 05 DE FEVEREIRO DE 2019 – THE FUTURE OF IMPACT WORK
Do Fórum Econômico Mundial ao Vale do Silício, todos falam sobre o futuro do trabalho e como se comportar perante ele. A nossa intenção é explorar como o mundo que está em constante mudança afeta o futuro do trabalho de impacto – ou melhor, o que é necessário das instituições, empresas, organizações e de profissionais de todos os setores para que sejam protagonistas no cenário futuro.
A proposta do evento é que ele seja inclusivo e prático, e os especialistas nos temas tratados terão total liberdade para conectar pontos e explorar as lacunas do estado atual da pesquisa e discussão desses tópicos. O formato também permite compartilhar trabalhos locais com um público global, e que os presentes conheçam profissionais que estão criando mudanças ou procurando talentos. Afinal de contas, juntos somos mais forte!
Timings
10am until 10pm
Contact
Location
Red Bull Station
Praça da Bandeira, 137 - Centro, São Paulo - SP, 01007-020
+ Google Maps