Changing Humanitarian Aid Response through Systems Thinking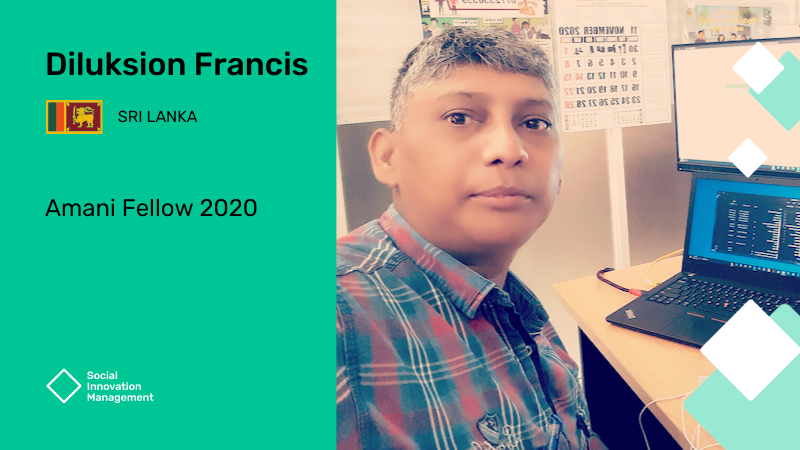 When the tsunami hit Sri Lanka, his home country, in December 2004, Diluksion Francis had no doubt: he was going to work in the humanitarian sector. Covering different roles with Care International, World Vision (including deployments to Turkey and Jordan dealing with Syrian response, Pakistan, Kenya and Indonesia), and currently working with Oxfam in Sri Lanka, after 15 years in the sector he has one thing clear: "People should stop depending on aid. But humanitarian organizations also need to be blamed, because it's the way humanitarian response is delivered that needs to change".
Looking for solutions to connect responses to recovery, rehabilitation and development in humanitarian projects, he is today further developing his leadership and innovation skills through the Amani Institute Social Innovation Management program.
In recent years, Dilo, as he likes to be called, has been focusing on what he defines as "Anticipated response". It's a very short but key phase between forecasting and post-disaster aid delivery. "It's like in first aid – he explains -, where the first 60 minutes are key to determine if a person will live or die. The same happens in a natural disaster: you need to detect what is coming as soon as possible, understand and react to preliminary data as fast as you can, to determine your intervention's success and – most importantly – to save lives".
Scaling Impact

When working as Oxfam's Monitoring and Evaluation Coordinator in Sri Lanka, in 2017 he joined the [email protected] Accelerator program launched by Oxfam for internal capacity building, his path crossed with Amani Institute for the first time. During the program, he leveraged the Amani methodology to develop an innovation called ReachMe: an early warning system that uses sensors to collect data about heavy rains and to automatically communicate information to key people (government, health authorities, local authorities, etc.) via mobile communication systems. A dashboard makes the data simple and clear for the audience so that a fast response to a potential disaster can be prepared, even before the disaster happens.
Invited again to join [email protected] Accelerator the following year, Dilo came up with another simple but effective innovation project called The Cube: an accessible solution to protect children's goods (clothes, books, sanitary support…) and household valuables in case of floods. He won the internal innovation competition.
Transforming Ideas into Action

"My biggest problem may be that I have too many ideas!" he confesses. "I want to be challenged and I am at my best when I'm pushed to think beyond what I have to do, to do it better. Once, I read that – by paradox – Bill Gates likes lazy people, because they always find a shortcut".
That's why when he learned about the first digital edition of Amani Institute Post-Graduate certificate in Social Innovation Management (SIM) he knew he wanted to join. "Social Innovation is about finding shortcuts to impact".
You may ask Dilo, Why joining a post-graduate program? After all, he had already been working for many big INGO's, and he admits he has always been lucky enough to have the opportunity to innovate in his own job. Without considering he could also be part of Amani Institute in-person classes during the Oxfam program.
"Of course, I value the face-to-face interactions, but the way I see it, for the online courses you just need the dedication and commitment to learn. And Amani Institute classes have a lot to offer, no matter the format. I knew I would have new skills and tools, and I can say that in fact, each day, I live in the expectation of what is coming next, to learn and apply on my job".
Dilo is definitely a fast adopter. Applying what he learned during the Systems Thinking and Storytelling classes during the SIM program this year, he was able to secure a 60,000 USD grant from the World Food Program to develop a new initiative to make the most out of in-cash distributed aid in specific regions in North-East Sri Lanka.
"I looked at it with the lens of system change, trying not to respond to symptoms but identifying and addressing the root causes of the problem. I understood that effective cash aid should reach the beneficiaries without requiring them to travel from remote areas to faraway bank branches (spending money to travel which they don't have). Furthermore, I can see the virtuous cycle that can be activated to change the system: providing remote small vendors with ATM machines, beneficiaries could see the value of getting a bank card and get their money directly there. Both funding donors and the Government would benefit from digital transactions, and the private banking sector would be more than happy to support financial literacy programs and ATM distribution". With this idea in mind, the SIM Storytelling class kicked in.
"I could have sent one of my many 'I-have-an-idea emails' to my boss – Dilo recalls laughing – but I had just met Ameen Haque, our Storytelling instructor, and so I decided to follow one of his tips: if you want to make your impact visible, tell a visual story in one page, with your beneficiaries' perspective".
Here it is what Dilo sent to Oxfam's Country Director: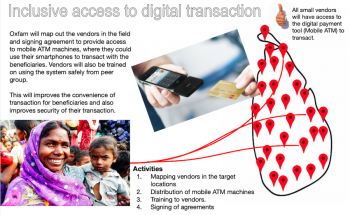 The project was approved internally, the proposal sent, the 60.000 USD funding assigned. And if it works, further funding may support the project's expansion in other regions, in Sri Lanka and beyond.
Doing it together

There's something Dilo wants to ensure we capture in this interview: "The network you get is one of the bonuses you don't see yet when you apply to the SIM program: in my cohort, we are very different (35 Fellows from 18 countries), dynamic, willing to share knowledge and to provide constructive feedback. Beyond what you learn in class, there are insightful conversations happening every single day. For example, Janina from Germany and Sid from India have supported me with productivity tools that are helping me a lot".
There's more. "Fellows work on different fields of impact beyond humanitarian aid, they are in the private sector, or run social enterprises… They have broadened my perspective and showed me further ways to collaborate for systemic change. It has been an enlightening experience! I have always been focusing on my skills, my work, my ideas. Now I know that I need to work with others because impact requires collaboration and insights from different fields of action".
The Social Innovation Management experience in 3 words?

Dilo takes 5 seconds to reply, staring at something up there, in front of him. Then it seems like he has caught a hanging fruit from that imaginary tree: "Building collaborative innovation".
Curious about this program? Learn more here. Applications are open!