El Sector Privado Necesita Acelerar Su Contribución Para Conducir Un Cambio Significativo a Nivel Global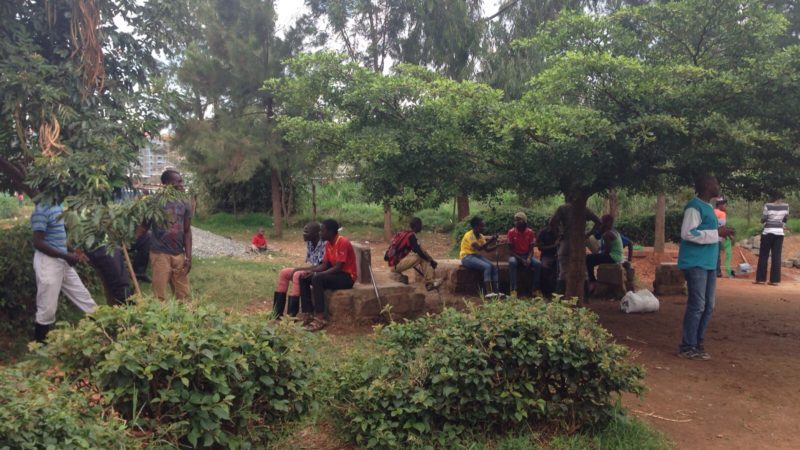 PS: English version of this blog is available below the Spanish version.

Me mudé a Nairobi en 2015 para ayudar en algunos proyectos locales y participar en el programa de innovación social de Amani Institue. Llegué allí después de graduarme en ciencias empresariales internacionales y trabajar en distintos sectores en países como Francia, España o Estados Unidos. En general sentía que mi vida profesional carecía de sentido y de un propósito real, por lo que estaba explorando posibilidades y Amani fue el sitio perfecto para alimentar y guiar el cambio que necesitaba.
Además de colaborar en varios proyectos en Kenia, dediqué esos meses a reflexionar sobre el rumbo que quería que tomara mi carrera profesional. Los cursos y ponentes de Amani ayudaban a que todo empezara a cobrar sentido. Necesitaba ser valiente y atreverme a alinear mi pasión y preocupación medioambiental, que me habían acompañado desde mi infancia, con mis futuros proyectos profesionales.
Mi paso por distintas organizaciones me ha hecho comprender que las empresas las forman y gobiernan personas, y no "una fuerza invisible llamada mercado", excusa que muchos utilizan para justificar una maximización de beneficios irresponsable. Creo que el sector privado tiene hoy en día un reto muy complejo, pero también apasionante, y es el de tener un impacto positivo para el planeta y la sociedad siendo económicamente rentable al mismo tiempo. La envergadura y urgencia de los actuales problemas ambientales y sociales es demasiado grande para ser abordada únicamente por gobiernos y ONG. Probablemente las empresas, por tamaño, talento, y recursos, sean las más indicadas para desarrollar un cambio significativo a nivel global.
Yo quiero formar parte de una nueva generación de empresas conscientes de la magnitud de la crisis medioambiental que vive el planeta y de la necesidad de evolucionar hacia un sistema sostenible. Estoy recorriendo ese camino desde hace un par de años, primero trabajando en la formación de un grupo de empresas sostenibles, y ahora especializándome en servicios ecosistémicos y biodiversidad, y diseñando maneras de involucrar al sector privado en la restauración y conservación de ecosistemas naturales.
Queda mucho camino por recorrer, un largo proceso de prueba y error, pero tengo la impresión de que las generaciones más jóvenes cada vez lo tienen más claro. Están surgiendo muchas iniciativas, proyectos y empresas que ya integran el impacto medioambiental en sus balances y eso es sólo el principio. El cambio ya está en marcha, la pregunta ahora es cuánto tiempo nos hará falta y el daño que seguiremos haciendo durante todo este proceso.

---

The Private Sector Needs To Accelerate Its Contribution To Drive Significant Change At A Global Level
I moved to Nairobi in 2015 to help out in some local projects in the social sector and joined the Amani Institute Social Innovation Management program. This was after graduating in international business and working in different sectors in countries such as France, Spain, and the USA. Overall, I felt that my professional life lacked real meaning and purpose, which is why I explored possibilities and Amani was the perfect place for me to explore and nurture the change I needed.
Besides collaborating on several projects in Kenya, I took those months to reflect about the path I wanted to take for my professional career. The courses, classes, and speakers in Amani Institute helped in making sense out of things. I needed to be brave and to dare to align my passion and concern for the environment – a childhood passion – with my future professional projects.
My journey through different organizations made me understand that companies are built and run by people, and not "an invisible force called the market", an excuse that many individuals use to justify an irresponsible benefit maximization. I think that the private sector today has a very complex challenge – to have a positive impact on the planet and society while also being profitable. Because the scope and urgency of the current environmental and social problems are too big to be addressed only by governments and NGOs, it is most likely that companies, due to size, talent and resources, are the most suitable to develop a significant change at a global level.
I want to be a part of the new generation of businesses aware of the magnitude of the environmental crisis the planet is going through, and of the need to evolve toward a sustainable system. I have been walking down this path for the last few years, first working in the building of a group of sustainable companies, and now specializing in 'ecosystemic' services and biodiversity, and designing ways to involve the private sector in the restoration and conservation of natural ecosystems.
There is still a long path ahead to walk, a long trial and error process, but I believe that the younger generation understands the need now. Many initiatives, projects, and enterprises have been created that are already integrating the environmental impact to their bottom lines, and that is only the beginning. The change is already in progress, the question is how much time we need and the damage that we will keep on doing throughout this process.

This post was written by Gonzalo Gutiérrez Goizueta, Amani Institute Fellow from Kenya class 4, in 2015, currently working in Seychelles for a coral reef restoration project.