Global Experiences for Social Impact: Get inspired by Jacqueline Oliveira's Career Trajectory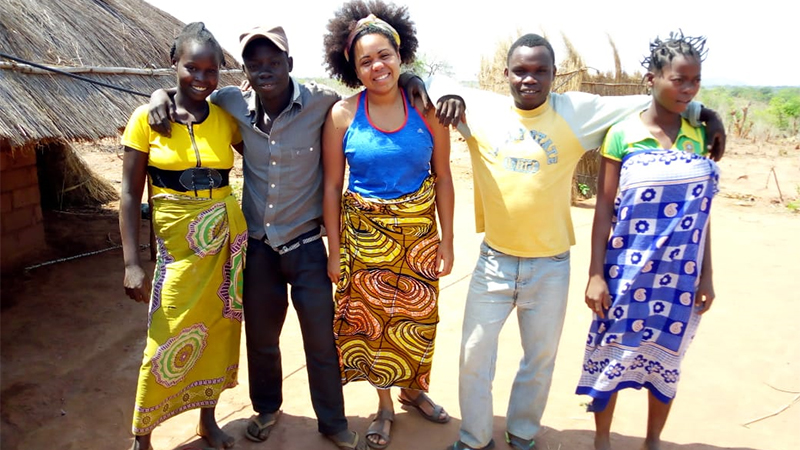 Article by Renata Ferreira (Amani Fellow, Brazil 2018)

Jacqueline Oliveira is one of those leaders who have a history full of learning and purpose. Today, she serves as an International Development Designer at ThinkPlace, an Australian social innovation organization with worldwide operations.
Passionate about culture, innovation, behavioral studies, problem-solving, entrepreneurship, and international development, she has worked in government, in the private sector, in NGOs with international and local operations and social business in Brazil, Colombia, Mozambique, Kenya, Malawi, Ethiopia, and Uganda.
Jacqueline's career path began with a degree in International Relations at IBMEC, in Rio de Janeiro. During college, she realized that she would like to work for the public good, at the intersection of the agendas of culture and international relations. This eventually led to her beginning her career working at the Secretaria de Estado de Cultura do Rio de Janeiro (State Secretariat for Culture in Rio) in the "Pontos de Cultura" (Culture Points project). The project was recognized internationally, and she was invited to be part of its expansion to the Mercosur countries.
Multiple leadership experiences in different countries
Her next professional step was working with AIESEC, which aims to develop cultural leaders. She worked for two and a half years as Director of External Relations in Rio and then in Colombia as Assistant Project Manager. Upon arriving in Colombia, she realized that the social problems there were similar to those in Brazil. Despite the differences in the scale of the problems, the solutions to the problems were similar to that of Brazil. This discovery helped her realize that for her to have an impactful career in public policy, she would need to change her mindset, and the only way to do that would be to experience life in other continents.
Jacque moved to Mozambique in 2012 to serve as the National Outgoing Exchange Director at AIESEC Mozambique. There she faced an even more challenging scenario, with Mozambique at the time listed as the 7th poorest country in the world, with the marks of decolonization and civil war very apparent in society and a strong lack of basic infrastructures and formal education systems.
This has probably been her most challenging experience to date.
First, because she realized that as a black woman, she had a very well-constructed "Latin American identity" – but not a black identity. This experience made her reflect on the slavery process, and how different was the fact that her ancestors had crossed the Atlantic Ocean forcibly, unlike her, who many years later had the opportunity to cross it willingly.
"This has a strong effect on me because it made me reflect as a black woman, as a citizen. This made me reflect on my whole relationship with Brazil because I could better understand the effects of the slavery period and how it had impacted my life".
In addition to this identity-building process, Mozambique was especially challenging because she was the only "non-black" woman on the team in a leadership position. The fact that she had only male subordinates, made the leadership process challenging since in Mozambican culture it is a great affront for men to report to women as direct bosses. However, it was while leading in a place that was not welcome that Jacqueline had her main learning about leadership.
"I have never learned so much in my life in a short period. The team consisted of 7 people, from 5 countries and 3 different continents. It was the first time that I lived with such diversity. It brought me a great sense of adaptability, completely changed the way I communicate and understand things".
The time Jacqueline was in Africa, coincided with the increased awareness of social innovation on the continent and it was when she also had her first contact with entrepreneurship. As she had relationships with people in different professions, she started looking for solutions that would empower the community and allow people to design solutions for their challenges.
It was then she realized that private and social organizations had more flexibility than larger and more bureaucratic organizations like the UN, the government, and international NGOs. Based on this learning, she returned from Africa to Brazil in June 2013 with the desire to work with entrepreneurship.
Entrepreneurship and innovation
Upon returning to Brazil she started working with entrepreneurship in a chain of beauty franchises. She worked as a National Operations Manager for two and a half years and in that period the organization almost doubled its total number of stores. After that, he assumed the position of Innovation Project Manager, where she helped in the development of a pioneering business model in Brazil, the first beauty kiosks.
With an increasing desire to develop groundbreaking ideas, she decided to open her kiosk in the middle of Central Brazil Station, downtown Rio. Through this business, she managed to change the way the consumption pattern was determined for the middle and lower classes. Until that moment, the standard for franchises to create products and services was developed for the privileged class and, from there, determine how it would be the consumption pattern for the other classes. Jacqueline gave voice to most of the population, with about 70%, to define their consumption habits. Unsurprisingly, this made her kiosk the best in the franchise chain of "Spa das Sobrancelhas" in Brazil. Despite Jacqueline's hard work, the Brazilian economy went into a deep recession and the business did not manage to survive.
Finding her impact on the world
This was the turning point for her to decide to change her focus and started looking for master's opportunities. It was then that she found out about the Social Innovation Management Program(SIM) at the Amani Institute. Jacqueline desired to combine her experience as an entrepreneur and development professional to generate social value on a large scale. The traditional master's degree would provide her with academic experience but it would not bring her the practice she was looking for and would probably lead her to a European capital, "perfect" within Western standards, which, according to her, would not broaden her view. The SIM Program, on the other hand, could provide her the tools and practical experience in an environment valuable to the application of knowledge, in this case in Kenya, where she took the course.
For this reason, she decided to do the program in Nairobi, so that she could have new insights, based on a different perspective. During the program, she had the opportunity to reflect on her trajectory and what impact she wanted to have on the world. During this period, he learned new tools, improved her practices, and understood who she was as a leader and as a changemaker. She spent 10 months in Nairobi applying the knowledge learned at the Amani Institute.
The next steps towards social change
Currently, Jacqueline works for ThinkPlace, an Australian design studio, which has a presence in several countries. She develops projects related to different agendas related to the promotion of the public good, such as health, education, environment, among others. Her job is to design strategies, public policies, and programs for governments and international NGOs. The projects developed are quite comprehensive, ranging from combating malnutrition to designing a game for teenagers to increase fruit consumption.
She recently participated in the design of a booklet for nurses in the public and private health network in Mozambique that aims to inform adolescents about contraceptive methods. This project won the international Design for Social Impact award from Core 77 Magazine, a recognized design magazine in the United States.
"It is a job that makes me feel very fulfilled. I think I finally found what I want to do, for many, many years. I feel happy with the impact that my work promotes, that was the result of my trajectory. Since I passed by the secretary of culture in Rio and understood that I wanted to work for the public good. Then, in Colombia, understanding the sense of legacy, that we should create long-term solutions adaptable to the local culture. Then in Mozambique, I matured as a leader. And then for my postgraduate studies at the Amani Institute, where I had the opportunity to develop myself both as a person and as a leader".
In the coming years, she intends to return to Latin America to apply her experience and knowledge acquired during her career in the design of public policies and strategies for governments, foundations, institutes, and NGOs. Also, she intends to help form a generation of designers for the public good, acting as a teacher, researcher, and disseminator of the practice.
Finally, she intends to support Latin America to overcome the consequences of centuries of colonization, slavery, structural racism and wrong public policies, which, as a result, made Latin America the most unequal region in the world, in which Brazil appears in 7th place of the poor income distribution. Thus, through her actions, she intends to improve the lives of millions of Brazilian black women and indigenous people, as she currently does on the African continent.
This is just the beginning of the trajectory of a social impact professional, who will certainly have many inspiring stories to tell.
Brazil, social innovation