I No Longer Feel Alone or Crazy in My Search for Meaning – The World is Full of These People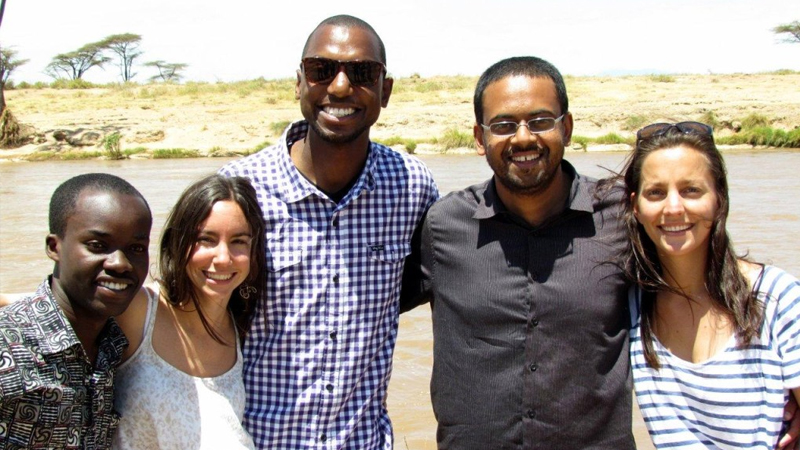 This post was written by Jessica Newmark, from South Africa, currently a student in our Certificate in Social Innovation Management program. In the post, Jessica writes about the journey that prompted her to come to participate in the Amani Institute. This blog was first posted on the wonderful Escape the City website, and can be read there as well.
My search for meaning…
In 2009 I landed my 'dream opportunity' within the marketing division of a big South African corporate. The company had many famous and aspirational brands and I saw myself climbing the corporate ladder, positively influencing others and making impactful changes within the company. I gained invaluable skills and experience and met many great people but unfortunately my values were not aligned to the organisation. I was not fulfilled and found little meaning through my work. I couldn't see the impact I was having – a small cog in a big wheel. I had a stable job, financial security and the opportunity to progress but it was not enough. I could picture myself staying there for 20 years and never realising my purpose or being able to create meaning through my work. 'Nobody likes to change. Until not changing hurts more than doing the actual change' Jamie Oliver
Journey of exploration
I decided to resign so I could travel, see and learn more about the world. I wanted to 'find myself' and my purpose and somehow thought I would make this discovery in South America. It was a life enriching experience. I met charming people and explored beautiful countries but I did not find the answers I was looking for – I needed to look deep within myself, to get to know the real me and understand what it was that I truly valued.
On my return from my travels I spent months researching, looking for that 'right' and perfect job. Instead of trying to make something happen, I was waiting for something to happen! I was paralysed by fear, the fear of making the 'wrong' choice and doing something different. Before driving my parents completely crazy I finally made a decision and relocated to Durban where my boyfriend, Greg, had started a new job. I needed security and a sense of self-worth and therefore wanted to find a job as soon as possible. I went straight back into the type of work I had been doing in Johannesburg, back into what I knew, my comfort zone. What had all the risk been for I asked myself? Forget it, you are just not cut out for 'doing something different' and pursuing a life of meaning and purpose. Instead of moving forward I realised I had taken a few steps back. I then moved to an organisation that consults to non-profits on their fundraising strategies. I was making progress! I had lovely clients but limited face-to-face contact with them. The role was office based and I was not gaining enough exposure. I wanted to be challenged and pushed; to interact with people and really understand them and their needs. I started looking again. I knew I had to fill the emptiness I felt inside before I threw in the towel, drove my boyfriend away and succumbed to what others told me – work is work, you'll never find a job you love [but Steve Jobs and Escape the City (Esc) had told me otherwise].
The revelation
In April I read a 'tweet' Esc posted about the Amani Institute's course in Social Innovation Management (SIM). The tweet attracted me to the Amani website which seemed 'too good to be true'. In finding out that I had been accepted into the course, I felt overwhelmed with fear and now had to make a decision. My gut feeling was very strong despite the fact that the Amani Institute had no track record. Amani offered an alternative education to universities and other tertiary institutions. I believed in two passionate, extraordinary, genuine people (founders Ilaina Rabbat and Roshan Paul), I'd never met in person, from different corners of the world who'd come together to make their dream come true in Nairobi. I had a month to prepare. I arrived in Nairobi on 30 May 2013 to an incredibly warm and friendly welcome from the Amani Institute Team of Ilaina, Roshan, Geraldine and Vicky as well as my diverse group of unique and exceptional class mates who, like me want to find what they love! I have been in Nairobi for 3 months and the experience I am gaining through the Amani Institute; the 5 month apprenticeship at Ashoka East Africa and within Nairobi has exceeded all my expectations. I have been consistently challenged and stimulated through the SIM Program where we have covered courses in Biomimicry, Social Innovation, Design Thinking, Storytelling, Social Entrepreneurship, Writing, Tech for Social Change and the Inner Journey which is about understanding one's inner self and values, creating a vision and identifying your life's purpose. We have also had the opportunity to interact and learn from the experiences of leading social entrepreneurs namely Jack Sim (World Toilet Organisation), Andreas Heinecke (Dialogue in the Dark), Simon Berry (Colalife),Oliver Rosthchild (Generation Rwanda), Laura Walker Hudson (Frontline SMS), Rupa Chaturvedi (Raaya Design),Benita Matofska (Sharing Economy), Charlotte Millar (Finance Innovation Lab), Nick Martin (Tech Change) andShona Macdonald (Shonaquip) my mentor for the next year. My work at Ashoka has exposed me to a very different world, environment and reality! It's a visionary organisation that believes 'everyone can be a changemaker' and supports social entrepreneurs in their efforts to tackle complex social problems.
Amani staff and students in Samburu, in rural Kenya: Kofi Yeboah, Ilaina Rabbat, Jabari Smith, Roshan Paul & Jess Newmark
Alignment with my inner self
For me the Amani experience is what I was looking for and needed from an education system – it offers the perfect balance between theory, culture and practical real-life experience, while at the same time being able to interact with experienced professionals who are more than willing to impart their knowledge, advise and share their personal trials and tribulations. The Amani team continuously go the extra mile to support and meet the needs of each person in our program. They are completely committed to their mission of preparing the next-generation talent to tackle global challenges. Thanks to Amani I no longer feel alone or crazy in my search for meaning – the world is full of these people – breaking the 'rules', pushing boundaries, challenging norms and changing systems! This experience has been a life-changing one which has opened me up to new possibilities, networks and opportunities that I know will continue to enrich my personal journey. It has also given me the skills, knowledge, courage and confidence to pursue a career that is aligned with my values and talents. 5 key lessons learnt from my experience:
Things don't always go according to your plan
Happiness does not = meaning
Listen to your gut feeling
Travel – it opens your mind to new possibilities
Alignment of your personal values with the organisation you work for
————————————————————————————
Somewhere ages and ages hence: Two roads diverged in a wood, and I, I took the one less travelled by, And that has made all the difference.
Robert Frost
————————————————————————————