It takes a community to raise your changemaking career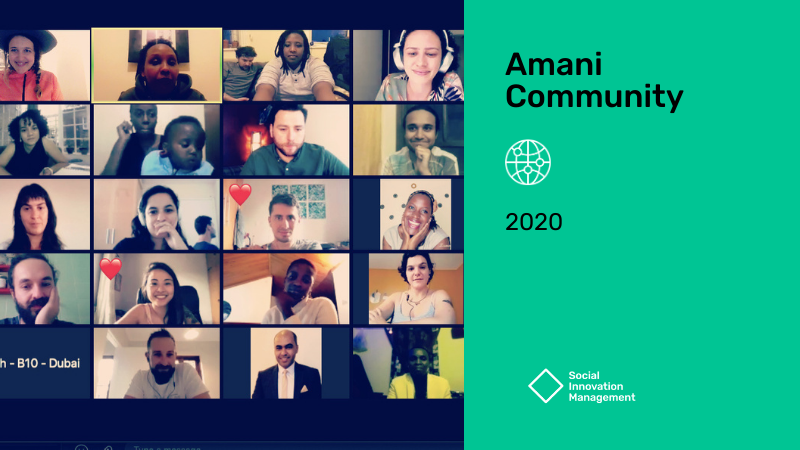 If we learned one thing from 2020, it is that community matters. As we redefine our local communities it also becomes clear that supportive, inspiring and nourishing communities beyond our physical reach are essential in a time when virtual interactions become increasingly important. What many of us are looking for is a space where we can be vulnerable but also held accountable as we navigate our lives as changemakers – a place where we can find the kind of exchange and relating that will help us weather challenging times.

What is a community?

The Oxford dictionary offers a definition of community as "a feeling of fellowship with others, as a result of sharing common attitudes, interests, and goals" – in contrast to networks, which are described as a group of interconnected people with the same interests.

Amani Institute's community of Social Innovation Management Fellows has grown over the years – we now are over 500 professionals from 65+ countries around the world with vastly different backgrounds, perspectives and professional profiles. – What brings us together as a community rather than just a network and what helps create trust rather quickly amongst members who don't know each other (yet) is precisely that: we share not only interests and goals but also attitudes.
"I would describe the Amani global community as a tribe, people who share values – especially a concern about the way we are living today and who are taking actions to change it." says Laura Paonessa, a current Fellow who works in the Latin American financial development sector. She admires the community member's willingness to help and share their experience. "It helped me to feel part of the program".
"A tribe of people who share values, are concerned about how we are living today, and take actions to change it."
Community members have a shared language because of having gone through a similar intense and life-changing learning experience, selected into the Social Innovation Management (SIM) program because of a distinct ambition to live a life of meaning and impact and a set of shared values: Vision, Courage, Empathy, Changemaking and a Global Mindset.

New Fellows joining our programs – digital or physical – bring movement into our main community home, on Workplace. Here, people interact, find resources and connections. Most of all they find a place for inspiration, support and lifelong learning. Alumni join the ongoing programs to give back as guest speakers, panelists or interview partners for current students. They form interest based groups. They share opportunities with or even hire each other or collaborate in other ways.

Due to the special circumstances of 2020, we offered for the first time the SIM program in a full digital edition. When we thought about how we could bring Idea-Networking online- one of our signature in-person events -, over 60 alumni from around the world showed up to help our current Fellows expand the ideas they are developing for their social innovation projects.

"It's really amazing to see the genuine connections, support and help the community shares" says Jonathan West, a learning and innovation consultant with a background in the public and social sectors in the USA, who joined our program.

"Good things happen at the edge."
As innovators, having access to so many different perspectives, with regards to roles, sectors, geographies, cultures and age (Amani Fellows' age ranges from 20 to 60), is an incredible resource. "Good things happen at the edge", says Italian alumni and current Global Communications Director at Amani Institute, Francesca Folda: "The diversity of your network is key: it's about expanding, not confirming our thinking".

Want to test an assumption? Ask someone who has a completely different perspective than you. Need a connection in a new sector or geography? Look for someone who is rooted there. Want to test out an idea in a safe and brave space? Invite the community. Via the platform, Jonathan and his classmates connect with alumni to reach out "for guidance, information or perspective on class projects. Everyone who has responded has been very willing to be of help." Laura adds: "I admire the plurality and non-linear professional trajectories that each Amani Fellow has. It opens my mind to new possibilities I didn't think were possible."

"It opens my mind to new possibilities I didn't think were possible."
While a community is also defined by its boundaries, the Amani community spirit extends way beyond the people who formally graduated from our Social Innovation Management program. Maria Spitaleri, a strategist and brand developer and collaborator at 'A Tribe Called Humans' who joined our first Digital Edition of the program from Argentina, shares: "I love that you can feel the community's strength and supportive spirit even when you are not a part of it. I experienced it myself when I was first introduced to a few Fellows when trying to bring a brand thinking movement to my region: I asked them to have a conversation with me and not only did they meet me in person without even knowing me, but selflessly supported me with their time, committed work and connections. It was a one-way ticket. We've been working on projects together for over two years, both randomly and steadily. And I wasn't even a Fellow yet!"

About her experience as a Fellow she says "the more I give, the more I get. That's how I find value within the community while doing the program. There's no way I don't receive anything if I am present, engaging." Argentinian alumni Lucila Sarquis, currently the Latin America Project Manager at Yunus & Youth, says that the key to building authentic connections in a community or network is generosity. "Generosity can look like participating, connecting dots, showing up for others" she says, joining as a guest speaker the current students in a class on networking.

"The key to building authentic connections in a network is generosity."
One of our biggest questions creating a digital version of our program was whether the catalytic energy previous Fellows have described as crucial to their learning process would translate virtually. There are many online programs – and many of us lose energy and motivation to follow through with them as time goes on. With just a few weeks to graduation we now can confidently say that this "huge ball of positive energy, collaboration and growth" as Maria puts it, is palpable even in this format, and in large measures thanks to this "beautiful group of people, who are learning and caring for each other and for the things that matter to them."

Jonathan points out ''I know learning communities are a powerful way to support and continue professional development. – There is a special connection amongst the Amani community with the shared purpose of changemaking – a global community of people engaged in doing the hard work of building a more sustainable, equitable and connected world".

As Kenyan alumni Kenneth Chomba, who now works as a Volunteer Engagement and Network Specialist at UNICEF in New York says during the Networking class: "You know how they say it takes a village to raise a child? Well, it turns out that it takes a community to raise your career."


Curious about this program? Learn more here. Applications are open!
Amani Fellows, Amani Institute, community, networking, SIM program