Leading by Example for a Better Future for Africa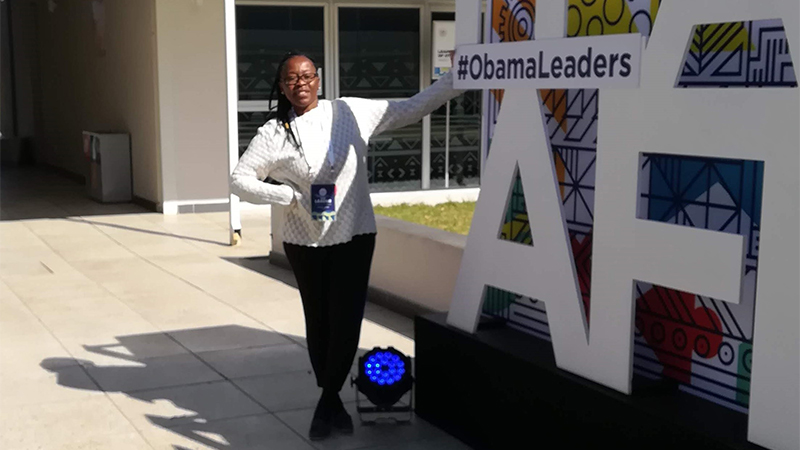 Working in social innovation and the impact sector is certainly a challenging yet ultimately fulfilling task. Lots of sacrifice, long working hours and an unwavering commitment to excellence are needed to actualize the change one wants to see in society. A strong social support system and validation from peers and goes a long way to motivating changemakers to keep doing what they do to make society a better place.
In June this year, Likumbi Kapihya got one of the highest accolades that any young changemaker in Africa would wish for: induction into the prestigious Obama Leaders Africa 2019 Program. From a pool of over 20,000 applicants across Africa, Likumbi was one of only 200 Fellows who were chosen into the Obama Leaders Africa Fellowship.
Likumbi is an Amani Fellow (2017) and she is currently the Social Enterprise Lead at BongoHive, Zambia's first innovation and technology hub, which supports a wide range of entrepreneurs creating solutions to some of the most pressing problems on the continent.
The Obama Leaders Africa 2019 Program was founded by Former US President Obama as a platform to identify promising changemakers in Africa and support them in acquiring the necessary skills and networks needed to propagate ethical and egalitarian leadership on the continent.
In July, the 200 Leaders met up for a five day Convention in Johannesburg, South Africa. Some of the brightest minds in the continent working in sectors ranging from design, education, advocacy and finance among other sectors converged to foster pan-African cross pollination and propagate ethical leadership and management.
Given the connected world we live in today, building bridges across countries and cultures is an essential component of effective changemaking.
"The Convention reinforced the power of connection to me. I literally witnessed some people solve challenges they were having in their organisations or communities just by having an honest conversation with another Fellow. The power of collaboration is something we should harness more to find shared solutions to our common problems."
Mingling with other leaders at the convention also reinforced some of the values that Likumbi treasures in her day to day work. Some of the values are inclusivity, collaboration, stewardship and selflessness which she saw as being espoused by the Obama Foundation and Fellows at the Convention.
While Likumbi is proud of her induction into the Obama Leaders African Fellowship, she feels that she is just at the start of her changemaker journey. For her, empowering other African youth to take a proactive role in creating the society they desire is her ultimate goal. "
I think it's important for the youth to get involved in leadership positions and instigate change from wherever they are. If you see something in your community and think to yourself 'that should not be like that' or 'that could be better' you are already half-way to effecting change. Most importantly, remember you are not alone, there is literally a movement of young people who also want to shape a better Africa along with you.
"
leadership, social impact, social innovation, youth development