"Conferences Are just for Corporates", and Other Myths about the Impact Sector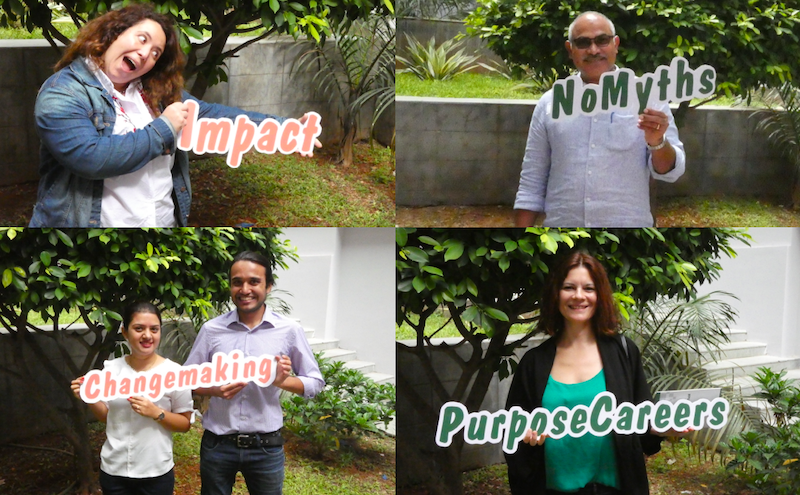 by Harshavardhan Palvatla*

There are a lot of misconceptions about building a career in the social impact sector. Having just started my journey at Amani Institute to pursue social change, I must admit I had a lot of concerns. One of the biases I had for a long time was that conferences and seminars are only for big fancy corporates; this was rectified as I got the opportunity to attend 'Demystifying Social Impact Careers' a conference series organized by Amani Institute along with Arthan Careers and International Innovation Corps (IIC).

Held at the National School of Journalism, Bangalore, it was an enriching experience. Throughout the day there were exciting speakers, panel discussions and workshops on relevant topics such as 'Transitioning from the private sector to the social sector', 'Can I make a living while working in social impact?', and 'Becoming good at networking', amongst others. As someone who is entering the sector, it was a great opportunity to connect with some well-known practitioners such as Abhijit Mehta (COO, Quest Alliance), Sudha Srinivasan (CEO, N/Core, today The Nudge), Pranav Kothari (VP, Educational Initiatives), and many others and understand their perspectives on the increasingly growing sector.
"A career in social impact is not a moment in time but a lifetime journey"
The Long conversation was the opening session which moved away from the usual panel discussions and explored an interesting format wherein the speakers – Sapna Karim (Head – Civic Participation, Janaagraha), Shiv Kumar (Co-Founder, Catalyst Group), Vishal Talreja (Co-Founder, Dream a Dream) interviewed one another, as opposed to a traditional panel with a moderator. Some key takeaways from the discussions that stood out for me were – a career in social impact is not a moment in time but a lifetime journey, it is important to understand the problem before you solve the problem, we think (assume) that we understand the problems of the poor, but we don't and civic organizations have an obligation to hold government accountable.

I attended the discussion on 'Can I make a living while working in social impact?' as this is a question that I often ask myself. Expertise is what matters in the age of artificial intelligence, we must create value for our work and then demand pie. Furthermore, one of the panelists pointed out what makes it exciting to be in this sector: you have opportunities to learn something new every day!

"Idea led networking works better than just resource or need-based networking"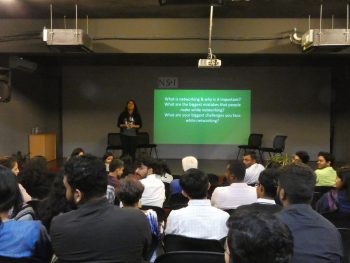 In an engaging conference like this, you can't miss a workshop on 'Becoming good at networking'. Everyone shared their perspective by answering questions such as – What does networking mean to you? Why is it important? As the discussion went on there was an emphasis on effective networking and how idea led networking works better than just resource or need-based networking. Don't network just to seek an opportunity, network also to offer. As one of the audience members rightly said 'Your network = your net worth'.

The last part of the conference was something special; as the cliche goes, save the best for the last. The Walk Your Talk session was the highlight of the day for me. I have realized that social impact has a lot of powerful stories and listening to speakers such as – Jyoti Thyagarajan (Founder Trustee, Meghshala Trust), Madan Padaki (Founder & CEO, 1Bridge), Sohini Bhattacharya (President & CEO, Breakthrough), Ved Arya (Founder, Srijan) was powerful.

There were moments during Walk Your Talk that gave the audience goosebumps. One of the speakers, for example, was an Amani alumni – Bhairavi Prakash, listening to her story about how she founded Mithra Trust – a not for profit that engages students, student networks, and youth communities on positive mental health- was very inspiring. Understanding her motivations and how she used her learnings at Amani Institute to create an impact was heartwarming to hear. Being an Amani fellow, it gave me the belief that I can go on to make a similar impact in the future.

*This blogpost was written by Harshavardhan Palvatla Social Innovation Management Fellow in India in 2019

Stay tuned for the next conference of the Demystifying Social Impact Careers series, happening in Mumbai at the beginning of next year! Bengaluru, career, purpose, social impact