A Life of Purpose: The Story of Tamila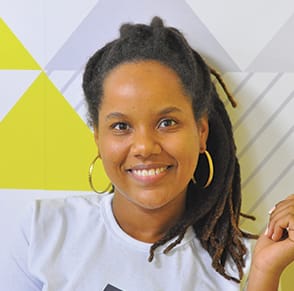 Tamila Silva dos Santos is 28 years old. She was born in the outskirts of Salvador (in the northeastern part of Brazil), and now she lives in Lauro de Freitas, Bahia, another place in the northeastern part of Brazil.
She started working in the social sector because she has always been close to social movements supporting racial equality, feminist and the LGBT+ movement. This was accentuated at her university, when she started working on social projects, in communities and also in the public sphere, linking one project with another, and when she realized she had created a career in that sector.
She came from a humble family, also from the periphery. Tamila is the only one who graduated from a public university. Her family is characterized by the cycle of poverty, and, through access to education, she is trying to break this cycle.
"My training in the Social Innovation Management Program (SIM) gave me a breakthrough, after the training I entered a new world of discoveries, I started to create new projects, and if I could summarize the whole experience in one sentence, it would be: the discovery of new horizons, both on a personal and professional level."
She has worked as a social training assistant and specialist in Social Innovation Management, has worked on small projects (gender and diversity, traditional communities, among others), and also in the public sector – in the Secretariat for the Promotion of Racial Equality. She also had experiences in the social sector in organizations like Engajamundo, AIESEC, TODXS, that focus on youth for social change. After that, she decided to join the private sector, working with content management for startups; today she works as a consultant in social innovation management, from the process of designing the projects to measuring impact.
At the same time, she created a social startup, Afroimpacto, that seeks to democratize entrepreneurial content for black people in the area of ​​social impact. Tamila's project is in the process of being ideated and being pre-incubated by Pense Grande, a Brazilian social project accelerator. Brazil is a country in which racism is extremely common within social settings, and that is why Tamila decided to work for this cause.
The purpose of what Tamila does is to change her own life as well as others' lives. "Prior to Amani, my goal was to create racial equity more broadly, but after joining the program, with access to the tools that the program provides, I had a change of mind and I was able to work in other fields, so I discovered that I was also committed to working on the democratization of knowledge, and that's how Afroimpacto came about", she explains.