Why Amani's SIM Program is Something You Don't Want to Miss!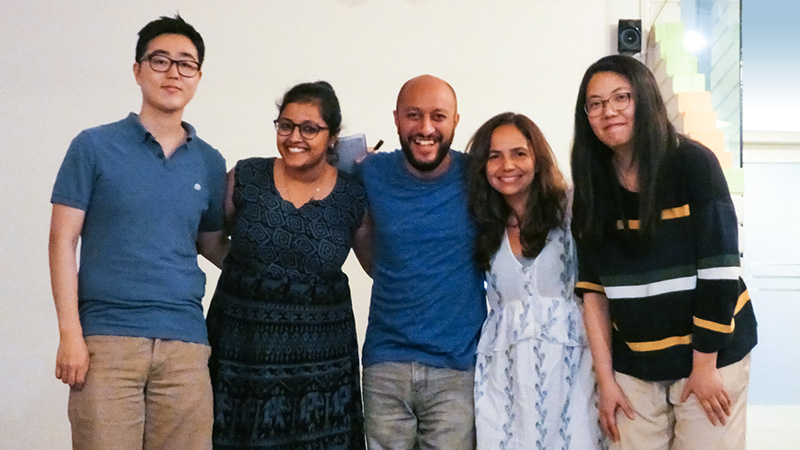 By: Anjali Das, (second from the left), Amani Social Innovation Management Fellow, India Class 3.

When I first decided to be a part of the Amani Institute's Social Innovation Management (SIM) program, I had no agenda in mind. I knew I was someone who always wanted to be inclined towards doing social good, but I wasn't ready to quit my job and completely move to the social impact space like many others. However, after having spoken to a dear friend of mine who had undergone the SIM program in the previous batch, I went ahead with my gut and enrolled in it only to be a part of one of the most exciting and diverse experiences of my life.
What differentiates the SIM program from many other programs in the market are three things which I will elaborate below – Its Courses, Structure/Design of the program and its people.
Courses:
For someone like me who had already completed an MBA program, I always wondered what new the SIM program had to offer. Particularly when I saw courses like Leading Purpose Driven Teams, Managing Social Impact organizations etc. I even made the mistake of presuming that these were going to be either like all those generic organizational development courses we are so bored of at MBA programs or too technically inclined for those in the social sector. I was pleasantly surprised when my judgements were bowled over by fantastic instructors whose classes were like no other that I had ever attended. The best part was each of the frameworks, concepts, and modules were so practical and relatable to all walks of life particularly for people like me working in the corporate sector. After each concept was introduced, the class would be divided into groups where you would get to apply these concepts to different case scenarios using role plays and simulations. The philosophy of 'Learning by Doing' by Amani Institute is perhaps one of the best ways to help professionals apply concepts to real life.
Structure/Design
The second thing that sets SIM apart is the way the course is structured across the foundation and immersion phase. Foundation phase has the candidates getting to know each other through an online social forum and getting to know the social space, the various concepts and developments that have happened globally and sharing our thoughts, opinions about the same. This gets you so acquainted with the social sector and the nuances that concern the sector that by the time you start the immersion phase (classes), you are no more clueless/hesitant of the sector.
The immersion phase is a roller coaster ride of 4 months with so many highs and lows but planned with such precision and finesse like every class fits a part of the puzzle. You deep dive into courses like Social innovation, Changemaking and Inner Journey that support our path to becoming a social change maker and its completely awe-inspiring how every single framework, phase leads you to understanding what drives you towards creating social change and how you can do our bit for the community we live in. This is also a time where two months into the course, you start feeling overwhelmed with so many emotions to tackle from both within and outside but here's where you are reminded to trust the process and believe me it all unravels like a mystery.
People
The last but the most valuable aspect of the SIM program are the people you meet at Amani. From the staff, instructors to your classmates, Amani grows on you and slowly you begin to understand why its lovingly called the 'Amani House' and not Amani Institute. As the immersion phase slowly approaches a close, you look back to see the wide set of students from all over the globe, who bring varied perspectives to every idea and conversation that you have in this colorful room that becomes your own safe space. But its not just about cultural diversity and perspectives but its also about this strong and mutual connection that you make with every single soul at the Amani house only to realize that you have bonded with them for life over so many cups of coffee, classes, late night discussions, dinner chats, long days of working on projects etc. The energy that the lovely people of the Amani house give you leaves you recharged and rejuvenated even after a long day of work.
In a nutshell, the SIM program is an experience that I urge no one should miss because you come once to Amani and you leave never since a little part of your heart always stays there among those colorful set of cushions and beanbags.

Are you ready to gain the skills you need to create sustainable, social innovation? Apply for our Social Innovation Management Program in Bengaluru, Nairobi, or São Paulo!
India, SIM program