Leadership For Growth: When "Prototype" Becomes Your Favourite Word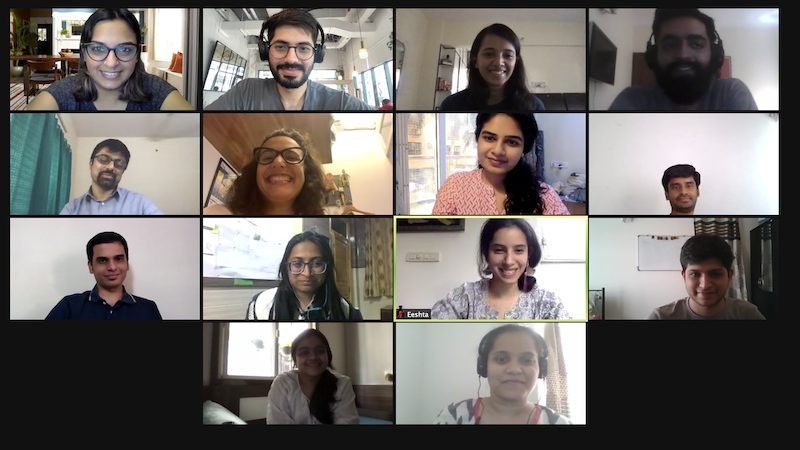 Amidst the one-year-since-covid-19 reflections, on Saturday, 13th March 2021, Amani Institute in India graduated the first cohort of an entirely virtual version of its Leadership for Growth (L4G) program. The class consisted of 14 people from 3 different countries – India, Nepal, and Pakistan. Designed to solve the middle management bottleneck to growth and scale, The L4G India program recruited a cohort from leading organizations positioned at the forefront of the sectors they operate in. Seven of our graduating class are employees of Sattva Consulting, a mission-driven organization based in India that focuses on scalable solutions for social impact. Two of them work at ZiFo RnD Solutions, a global R&D solutions provider strategically placed at the vanguard of Pharma and BioTech. One of the cohort members is the co-founder of S4S technologies, an agritech business based in India, while one works at Zindagi Trust, a Pakistani organization committed to improving education via model schools and advocacy.
The L4G program culminated with each participant presenting and receiving feedback on their Business Innovation Projects (BIPs), a project that participants work on and implement in their organizations during the course of the 5-month program. Keeping in tune with the highly interactive nature of the program, Amani Institute invited Rachna Chandrashekar, Manager at Upaya Social Ventures – an incubator that eyes early-stage businesses geared towards job creation in the world's most vulnerable communities, to review the BIPs. Apart from energizing the virtual room with her presence, Rachna put on her L4G alumnus hat to provide invaluable insights and feedback to the presenters.

The Business Innovation Projects exposed a variety of hurdles prevalent across growth and scalability, right from the untapped potential of employees to inarticulate value propositions. The solutions and ideas brought to the table defied status quo – one of the participants introduced a novel idea to reduce the perishability of tomatoes in order to increase the yield of post-harvest stock, while another explored ways to initiate a data-driven culture to deliver impact at their organization.
A key learning echoed by multiple participants was experiencing the simplicity and necessity of prototyping. "My new favourite word at my workplace is prototype", said Anam Palla, one of the program participants who sought ways to reimagine the recruitment process at a remote school for the underprivileged. She continued, "Prototyping always seemed more applicable to products. But this process pushed me to try, test out and improve my ideas. It's changed my whole approach at work." After a successful root cause analysis, Anam is currently experimenting with a fellowship program to find passionate, innovative, and driven school leaders who believe in the same cause as her.
Leading oneself is an integral part of leading a business. This is explored in the first module of the program 'Leading Self'. "Last year I set a goal for myself – to improve on people management and leadership skills – and this program has really helped in leapfrogging", reflects Bhavin Chhaya, Senior Consultant at Sattva and program participant. In his BIP presentation, Bhavin emphasized the need for data-driven practices in the social sector. His desk research and problem analysis resulted in the question: How can Sattva leverage data to enable businesses to make better-informed decisions towards impact? While prototyping his idea, Bhavin scheduled meetings with the senior team of his organization to set up targeted recruitment campaigns and fill the void of data-driven analytics.
As this cohort now enters the implementation stage of the work they have developed during L4G, we wait in anticipation to hear their stories.
---
Note: If reading this has inspired you to nominate yourself or someone in your team for the upcoming Leadership For Growth (Online Program) in South Asia, here's where you can do it. The program launches on 23rd April 2021 and registrations close on 10th April 2021. And, if you're looking for more information, head here!
---
India, Leadership for Growth, Small and growing business, social innovation