Nai Nami: Where Street Skills Get You Employed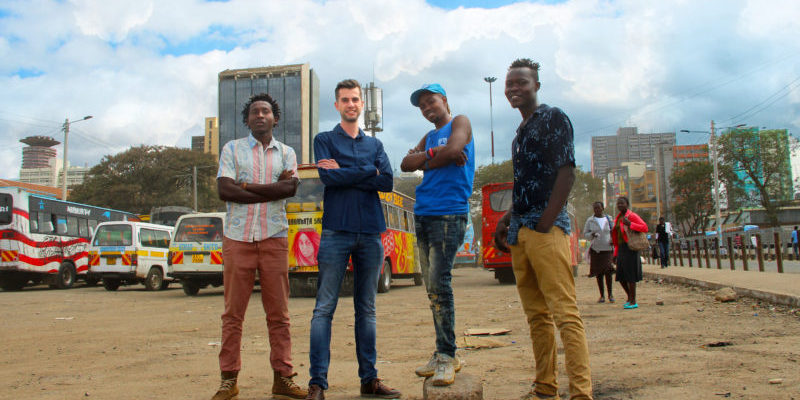 Walking down the streets of Nairobi's Central Business District, it's not hard to spot the large number of shabby, ragged and hungry street children. Most pushed to live in the streets by circumstances beyond their control yet they end up rejected by majority of society.
Some of these reasons push them to start fending for themselves from an early age. Most end up scavenging dumpsites for scraps to make some profit, but for others, they end up 'hustling' for their survival in the most intense and extreme ways, involving theft, burglary and calculated risks. All these are experiences which Kissmart, Cheddaz, Donga and Mrembe and, all former street boys, are all too familiar with. Having all grown up living in the streets, they became very familiar with the streets of Nairobi and its ways.
"From the time I was 5 years old, I lived in the streets and that experience really shapes how you think", shared Kissmart. "I have witnessed more deaths than I have been to parties. Every day I witnessed my friends getting shot or killed through mob justice. Living in the streets is not easy." said Donga.
Many youth in slums face the same destiny. For different reasons they drop-out of school and find themselves at an early age in the streets surviving through hustling and crime. What many people are not aware of is, that many of these youth reform themselves when they grow older, trying to live an honest life without crime. However, due to lack of education it is almost impossible for them to have access to the formal job market.
Nai Nami, a project set up by Gianmarco Marinello from Switzerland and Sriram Damodaran from India, is tackling this issue by offering a Nairobi Storytelling Experience in Downtown, guided by former street children. They both met in Kenya as Fellows of the Social Innovation Management program. They worked in the private sector and decided to make career shifts to the social sector.
"Both of us gave up our careers in the private sector, in order to designate our life to create social change. When we met during our studies of Social Innovation Management at the Amani Institute in Nairobi in 2016, we started collaborating based on our common passion for youth development in informal settlements. When we were exposed to Mathare slum in Nairobi, we felt the need of creating opportunities for disadvantaged and unemployed youth."
Nai Nami aims to develop formal job opportunities that build on the existing street skills of youth, and transform them into a formal business. From the start, they were determined it was not going to be another educational or training program focusing on the youth's weaknesses.

"With Nai Nami, for the first time in their lives, youth from slums don't get judged for their weaknesses like lack of education, hustling and crime. Instead, we value their unique street skills and personalities, which they have acquired due to their former lifestyle in the streets. We provide youth with the opportunity to see their identity as a strength and to apply it in a positive and sustainable way by letting them create value for society and earn a regular income. Instead of seeing themselves as victims who depend on help from outside, youth are now proud of their ability to do official business through Nai Nami." shared Gianmarco.

Nai Nami currently employs four tour guides – Cheddaz, Kissmart, Donga and Mrembe – reformed street boys who use their life experiences from living in the streets to share their stories with people from all over the world during a personal Downtown Tour. As they share, it has transformed who they are completely.
"This project has given me the opportunity to see a better side of the world than that which I lived in. I now have a mode of income and I am fully dependent on myself." shared Donga. According to Cheddaz, "The best part of being a part of this project is that I am no longer idle. It has given me a sense of humanity and in many ways it is a form of therapy. Each time, I share my story with guests on the tour and see how they are able to relate with me or even connect with it is powerful. I love this project so much and I want to see as many youth benefit from it as possible."
The guides are now seen as role models within the community. Initially, no one would have wanted to be associated with them, but now they share that they are within their community of Mathare.
"Nai Nami has given us the opportunity to change people's perspective on us. Initially, people had zero expectations of us but now we are role models within the community. Many of the youth used to think that the only way out of poverty was through theft and other fishy ways but now when they see us being able to run the tours and have an income, they look up to us." shared Mrembe.
For Gianmarco and Sriram, Nai Nami is just the start, new business models, besides Downtown tours, are already in the pilot phase. The journey of creating change itself has not been easy for them but they attest their success thus far to consistency and the willingness to fail.
As we concluded, Gianmarco added, "Many people get stuck with ideas in their heads and they never execute them. All I can say is there is no such thing as perfect you have to keep trying and improving based on the feedback you receive. When I look back and reflect at the work I did before and what I am doing now I have no regrets. Doing the Amani program was the best decision of my life!"