Announcing Demystifying Social Impact Careers!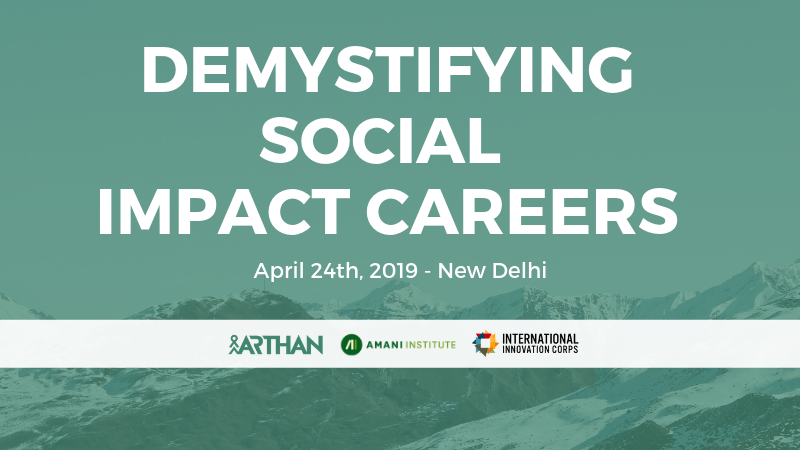 What does a career in social impact really mean, both globally and in India? Who is qualified for jobs in this area? Can I make a living while making a difference?
These are just a few of the questions we will be exploring through our new conference series, Demystifying Social Impact Careers, in partnership with Arthan and International Innovation Corps.
Particularly in India, there is a widespread belief that social impact careers mean low pay, self-sacrifice, and diminished social status. But this does not take into account the dramatic evolution of the social sector in recent years. Today, there are myriad options – from social enterprises to impact investing to fellowship programs to highly effective and professionalized NGOs. Social impact takes many shapes and forms and is a viable and reputed career path.
During our first event on April 24th in Delhi, participants will hear from thought leaders including Rukmini Banerji of Pratham Education Foundation, Srikanth Viswanathan of Janaagraha, and Yamini Aiyar of the Centre for Policy Research. Through innovative panels, workshops, and hands-on activities, this conference will be interactive and give participants tangible takeaways for their own lives and organizations. The outcome will be a better understanding of how each one of us can integrate our skills to create social impact. During the second half of 2019, we will also hold this conference in Mumbai and Bengaluru.


Are you interested in participating? Learn more and register here.
In case you are unable to attend, you can follow the event on our Facebook, Linkedin, Instagram, and Twitter, using #purposecareers. You can also see videos from the event on our Youtube Channel as well as read about the highlights on our blog.
Are you ready to jumpstart your career in social impact? Apply for our Social Innovation Management Program in Nairobi, São Paulo, or Bengaluru.