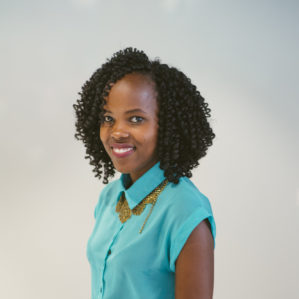 Agatha Wanjira Wanjiru
Program Coordinator (Kenya)
Agatha Wanjiru seeks to impact people's lives through making quality education accessible. She holds a degree in Project Planning and Management from Karatina University and is a Fellow of the prestigious Young African Leaders' initiative (YALI). She is actively engaged in civic leadership and believes in giving back to the community.
In addition to Amani Institute, she is one of the board members and serves as Publicist at Fly Sister Fly Foundation, a community based organization that works with girls in northern Kenya to promote education and discourage female genital mutilation and child marriage. She is a Brightest Young Mind 2016 Alumna (South Africa), a program that identifies, connects and mobilizes innovative young Africans for positive social impact.
Agatha enjoys motivational public speaking, paperback novels, weaving custom-designed floor mats, blogging, and just laughing out loud! Her slogan in life is 'To whom much is given, much is expected' because all she wants to do is spearhead change in her community.