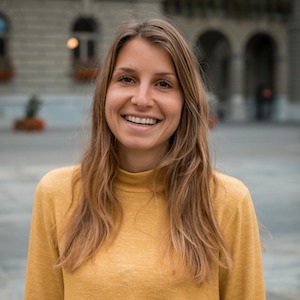 Anja Diggelmann
Project Leader and Changemaker,
Amani Community Curator Europe
Anja is a natural Connector and a lifelong learner. She is highly curious about life, the world as well as other people and what drives them. On her extensive travels around the world, she got to live out that insatiable curiosity.
She is excited about combining people, projects and ideas because she almost sees no limit to what people with different strengths and perspectives can create together. At the Amani Institute she found a community of like-minded changemakers. She is convinced that the most effective way to make a difference in the world is to empower social entrepreneurs to help them grow and develop their ideas.
Music is another passion of hers and after her degree in Communication and Media Studies at the University of Zurich, she started to work as a Project Manager in the music and event industry. For three years she was the project lead for the Swiss Music Awards, the biggest music award show in Switzerland.

Anja takes a special interest in socially responsible consumption and production. She believes in the slogan, "global justice starts with us" from the Swiss NGO called Public Eye, of which she is a member. She has been volunteering for the responsible business initiative in Switzerland that wants multinationals to respect human rights and the environment in their activities abroad.