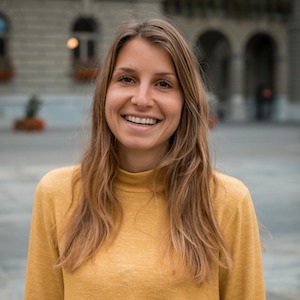 Anja Diggelmann
Anja was born and raised in Zurich, Switzerland where she got a Bachelor's degree at the University of Zurich in Communication and Media Studies. Music is another passion of hers and after her degree, she became project lead for the Swiss Music Awards, the biggest music award show in Switzerland, for three years. 
She grew up in a family where traveling was an omnipresent topic as her parents had a small travel agency. In the past seven years, she went on two longer trips that took her mostly to Asia, Africa, and Latin America. She believes that traveling doesn't just broaden the horizon but also helps people understand each other better and have more empathy.
Anja takes a special interest in the social responsibility of global corporations that have their headquarters in Switzerland. She believes in the slogan, "global justice starts with us" from the Swiss NGO called Public Eye, of which she is a member. She has been volunteering for the responsible business initiative in Switzerland that wants multinationals to respect human rights and the environment in their activities abroad. 
She wants to use her skills to make a positive impact on people's lives and is convinced that the most effective way to make a difference in the world is to invest in social entrepreneurs and their ideas. She's very interested in the fast-paced emerging markets as there is so much undiscovered and unused potential. By joining Amani Institute, she hopes to explore becoming an entrepreneur herself.