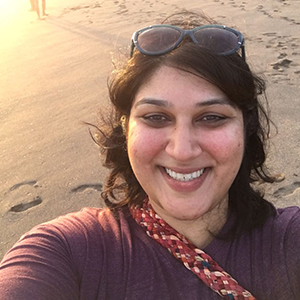 Bhairavi Prakash
Founder, Mithra Trust: Wellbeing for Students by Students
Bhairavi currently lives between Bangalore & Madras, and has lived in Nottingham and London.  She studied B.S.c. Psychology at Women's Christian College, Chennai and M.S.c. Social Work and Organisational Psychology from the Institute of Work, Health & Orgaisations, University of Nottingham. She interned with Diageo in London and soon after began working with Totus Consulting in Chennai, where her client work on coaching & leadership development frameworks won awards. She then headed a behavioural health unit at Medall healthcare, which was India's first school mental health service. Here, she  built the team, piloted a service offering, which she then grew to ensure positive cash flow. 
Bhairavi has also worked on projects in the field of digital health and artificial intelligence, across areas that included leadership development, product development, product diversification, strategy, and growth.
Recently, Bhairavi founded the Mithra Trust; mental wellbeing for students by students.  
As a changemaker, she is passionate about mental health; 'prevention' and wellness in particular. Her focus is on working with young people and creating awareness of mental health from an early age. With Mithra she hopes to mobilise the youth to be leaders in the field of mental health. By investing in youth leadership she hopes to create a wave of skilled (empathy, resilience, and emotional intelligence), conscious, and aware leaders that enter the workforce.
Bhairavi's interests are varied; she writes, enjoys the 'golden age of television', good food, hot tea and loves to travel. Some of her articles that are widely read and circulated include 
13 reasons why & suicide
 , 
Burnout at 28
 , and 
Myth of the Blue Whale
.  What excites her the most about the Amani Fellowship is the opportunity to anchor her values and drive for social change.  She  believes this program will provide her with the right tools to build a solid foundation that allows Mithra the best chance to succeed.