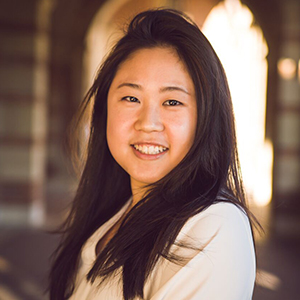 Christina Huang
"You cannot be what you cannot see."
Born in Los Angeles and raised in Taipei, Christina is a 21-year-old first-generation Taiwanese American and an aspiring education entrepreneur. Her interest in working with children began when she saw students in rural areas of Taiwan with little to no access to Western culture. At the age of 16, she launched an English summer camp for aboriginal children, where she tailored education to students' interests. In her effort to build upon students' integrative motivation in learning English, she incorporated their shared interest in sports, interactive games, and other unique aspects of American culture into the lesson plans that she created. Her efforts were rewarded when the school won School of Excellence Award from the Minister of Education for her English program. 
At University of California, Los Angeles (UCLA), Christina was an active member Kappa Delta Sorority and Sigma Eta Pi, a co-ed entrepreneurship fraternity. She worked as the Programming Board Representative at UCLA Residential Life. In her free time, she also served as a Certified Dispute Resolution Mediator at Los Angeles Unified School District high school.
Upon graduating from UCLA with a Business Economics major and Education Studies minor, Christina looks forward to joining Amani Institute.