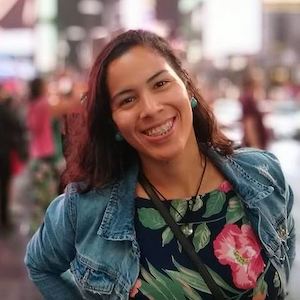 Danielle Marques
Product Owner, IBM
Danielle is part of a racially mixed family that comes from the Northern region in Brazil. Born in Rio de Janeiro, her experience as a first-generation university student has made her understand the value of public education and its power to influence people's lives.
After graduating with an accounting degree, Danielle became engaged in extracurricular and professional activities that not only focused on developing abilities and knowledge but also aimed at promoting social good.
During her early years, she volunteered in the youth-led organization, AIESEC, as Finance Director. Her responsibilities included managing the finance sector of the Rio de Janeiro office and co-creating the annual vision of her local committee, in collaboration with the executive board. She led an office of 40 members. Danielle was then hired by Institute Noos, a civil society organization that develops social methodologies in order to tackle intrafamily and gender-based violence. At Noos, she was responsible for the finance and administrative sectors.
Since 2014, she has been working for IBM in several positions such as finance and planning, process implementation, and product ownership. In a recent project, she led education sessions for around 100 students from public schools in downtown Rio de Janeiro – Brazil. Danielle is an Amani Fellow because she dares herself to rethink the world.