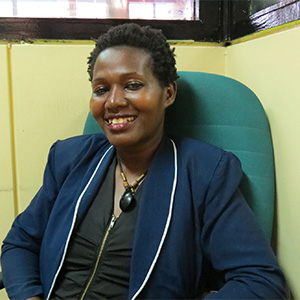 Florence Nyaoke
Florence is a human rights and social justice advocate living in Nairobi, Kenya. She holds a Bachelor's degree in Physics from the University Of Nairobi and a Diploma in Management of Information Systems (IMIS).
She believes that to have a good and fulfilling life people need to balance the physical, the mental, the emotional and the spiritual aspect of life. She believes the practice of yoga provides all these aspects through meditation. Florence is a graduate of the Associate Yoga teacher training held at Langata Women Maximum Security Prison, Nairobi, in 2018.
A professional dancer (Latin Ballroom dance) for over 10 years, she is also a certified events manager (Graduate of Divine Schools Africa). She is a mentor to many youth groups and is involved in policy lobbying for a free, fair and non discriminatory Kenya.
She is joining Amani Institute to acquire the skills and networks necessary to create a venture that can ease the transition from prison back to society for people who  have finished their term to ensure successful and sustainable reintegration and reduced recidivism.