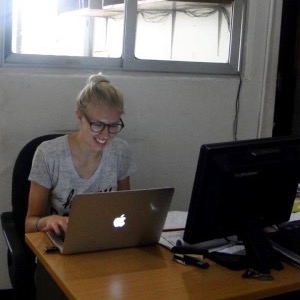 Jenelle Katrine Nicolajsen
Jenelle Katrine Nicolajsen recently completed a half year internship in Dar es Salaam, Tanzania where she worked with a small-grassroots NGO to help support programs dedicated to addressing issues facing informal sector market women.
Born in Alberta, Canada, she decided to pursue a Bachelor's in International Development after spending time in Mexico, Costa Rica, Nicaragua and Haiti. During her undergrad, she began working in marketing with various NGOs and companies and few years later was given the opportunity to help open and run a small local business. She also has 10 years of experience working in customer service and sales and spent 4 summers directing kids' camps.
Jenelle envisions the growth and expansion of business that is founded to prevent and address global issues of inequality, exploitation and poverty through socially, environmentally and economically sustainable practices. After spending 6 months in Tanzania, she is also eager to continue to develop her conversational level of Kiswahili to fluency. Jenelle enjoys hiking, reading, writing, cooking and opportunities to be a hospitable host.
You can check out her blog and follow her on Instagram