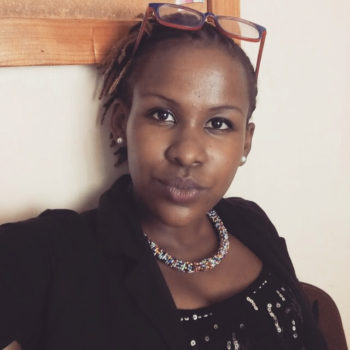 Joan Mwende
Director-Lulu Thamani, Co-Founder Learth&Tawi
"
I envision a world without gender inequalities and poverty, I am passionate in working with rural women girls in Kenya to build the skills that will help eradicate these issues."

Joan Mwende is the founder of Lulu Thamani Organization. She is passionate about promoting gender equality through empowering women to be better and understand their true value. She has a Bachelors of Commerce (Marketing) from the University of Nairobi and she has practiced marketing at GlaxoSmithKline Ltd, PZ Cussons Ltd and Procter and Gamble where she is working currently. In addition, she has experience in project management, financial management and resource mobilization. She is also a 2015 Akili Dada Fellow, YALI RLC Alumni and One Young World Peace Ambassador.

In the long run she aims to build a facility in Kajiado where underprivileged women will be provided a safe space to learn skills and access resources to better their lives. She also is planning to run a retreat and conference centre in the same area to ensure sustainability of her project and also to create jobs. This is mainly by creatively and innovatively developing her organization to be a pioneer in its industry. She aspires that Lulu Thamani emerges as a social enterprise firm motivated to change the way small businesses operate within their domestic markets.

You can read more about her work here and here.