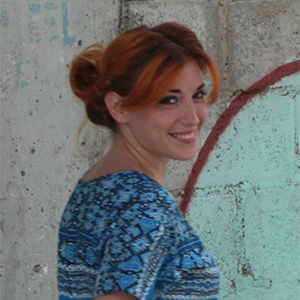 Maria-Manuela Stoicescu
Maria was born in Bucharest, Romania, where she spent the first 27 years of her life. Her first job was in a Romanian hospital, where she worked with children with HIV, improving the space where they spent a lot of their time. She eventually went on to study Philosophy and graduated from the University of Bucharest in 2008.
In her early years of college, she worked for a children's publishing house, writing poems and stories and translating children's books. After that, she transitioned into advertising, where she worked as a copywriter and social media manager, receiving a Bronze Award from Ads of the World for a Lipton Ice Tea campaign in the summer of 2011. In 2012, she left her job as a social media strategist in one of Romania's leading advertising agencies to move to Ireland, after getting a job as a Romanian Localization Coordinator for Riot Games. She worked for League of Legends, the one of the most streamed video games in the world.
In 2017, she left her job at Riot Games and started a Master's Degree in Anthropology at the University of Maynooth, in Ireland, which she recently completed with a dissertation focusing on the Romanian anti-corruption protests of the past five years and their connection to the anti-communist resistance and the resistance of her own family during the revolution of 1989. At Amani Institute she hopes to learn how to harness the skills and expertise she gained so far towards work that has meaning and impact. She is passionate about language and its immense power to create meaning and shape attitudes, and she strives to find ways in which it can be used to contribute to the ideals of social justice, foster inclusion and tolerance and create healthy social dialogues.