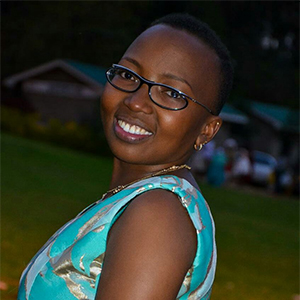 Muthoni Mate
Advocacy, Epidemiology
Muthoni has a successful career in epidemiology with over a decade of progressive growth working with global institutions to support emerging disease management in the East African region.
In August 2016, she received a breast cancer diagnosis which sent her and those close into a tailspin but with time, this redefined her world view and reaffirmed her contribution in the battle against non-communicable diseases, especially cancer.
In September 2017, after completion of treatment, she founded The Cancer Café – an innovative platform that bridges the information gap between health care providers and their patients, caregivers and the general public over a cup of tea, healthy snacks and activities. A positive space where difficult topics are discussed in a very informal laid back setting. The Cancer Café is operational on a monthly basis and has expanded its primary target of those affected by cancer and has incorporated the ecosystem that manages the disease, from practitioners to networks and institutions and widened the scope to include economic empowerment of cancer survivors rendered financially unstable due to the nature of treatment and/or lack of family and society supportive structures
The Cancer Café model has been scaled up and replicated in other counties such as Nyeri, Machakos with the scope also expanding from conversations to incorporation of wellness activities, healthy living and economic empowerment. It also represents the voice of cancer survivors at the National Cancer Control Strategy technical working group and assisting in Monitoring, Evaluation and Research in partnership with National and County Cancer Control programs among other leadership roles in various capacities.
Muthoni is a member of the Rotary club, a humanitarian group where she volunteers her time and expertise as a technical adviser to The Rotary Foundation under the Disease Prevention and Treatment cadre.