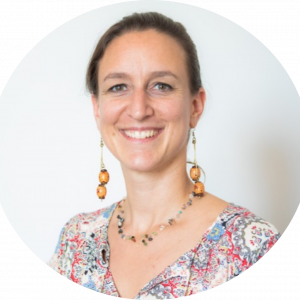 Nathalie Roy
Social Impact and Sustainable Development Expert,
Amani Community Curator Europe
Nathalie is passionate about training and empowering changemakers and helping organisations to create solutions for a better and sustainable world.
With a background in environmental engineering, Nathalie has first worked on a wide range of projects dealing with environmental and social impacts, sustainable development and social responsibility as a consultant, project manager, coach, trainer and facilitator.
She graduated from Amani's Social Innovation Management Program in 2016.
Active member of
MakeSense
, she has then worked in the social entrepreneurship sector and social innovation education and as Regional Manager East Africa at
enpact
she was recently responsible for international mentoring programs bringing together together entrepreneurs from East Africa and from Europe.
Currently based in Berlin has stepped up to become one of our Amani European Community Representatives for 2021.
Nathalie loves connecting people, sharing experiences and help others make the most of their change making potential.
Global citizen and world explorer, Nathalie has explored all continents, setting foot on 54 countries. Have a look at her
travel portofolio
and her personal
website.