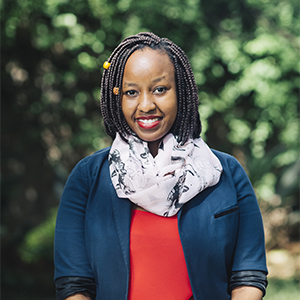 Nyambura Waggema
Nyambura Waggema is a social architect and innovator. She graduated from Strathmore University with a degree in law and then joined Uber Kenya as its Business Product Lead. Later, she joined Maisha Fountains Limited, a startup whose focus is on financial technology and literacy programs specifically tailored to demystify personal finance and equip the average person with the tools to manage and grow their personal wealth.
She volunteered in various projects: first, as a teacher and counsellor to primary school children from low income backgrounds. Secondly, she volunteered, through AIESEC, to visit and care for children in the cancer care ward at Kenyatta National Hospital, Nairobi. She also volunteered to work at the Kenya High Courts in Malindi, where she learned the importance and value of synergy, by observing the delicate balance between the court system and the community that it policed. Lastly, she volunteered with Holland & Knight LLP in Washington D.C. as an international legal clerk in order to learn the ropes on international trade and cross-border transactions as well as a legal perspective on large-scale projects of community/social or civil value.
She believes in the need to edify and restore the dignity of the human person. She is excited about innovation for low-income housing and education facilities in order to give more people a chance to forge a better life for themselves.
Her motivation to join the Amani Institute is tied to the promise of a paradigm shift for the social innovator. She knows that in order to do her part in changing the world, she must change herself first!