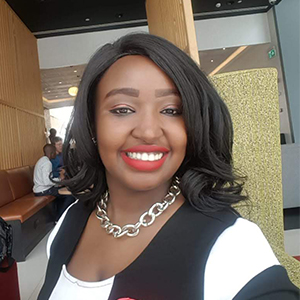 Nzilani Muema
Program Manager (Kenya)
Nzilani is a versatile, passionate, and team-oriented lady with vast experience in project management, technology and skills development.
These skills have been acquired in in a career that spans over ten years working for the global communications firm Nokia and in various consulting capacities. Academically, she has a background in Project Management (a Masters Degree and PMP certification) and Computer Science (Undergraduate).
Her experience with entrepreneurs will help her in role as ALMI Program manager for Kenya – a role that entails Nzilani acting as the focal point for all our efforts to develop the requisite talent for SGB's to enable them to scale sustainably and impact society.Her passion for people and consulting experience inspires her to use her talents to help others actualize their potential both personally and professionally..
Outside of the workplace, Nzilani is passionate about youth mentorship where she delves into the different aspects of life ranging from goal setting, planning and review, decision making, work life balance and how to live a life of impact and purpose with the vision of leaving a legacy.