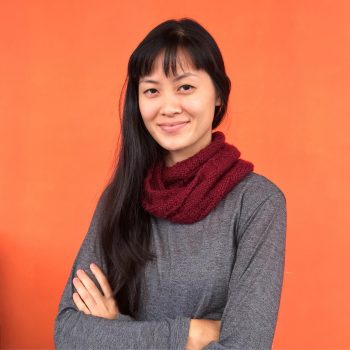 Patrícia Ayumi Imada
Gender and Diversity Consultant
'I want to build a better, dignified and just world for all'

Patrícia grew up in the comings and goings between São Paulo and Vale do Paraíba, Brazil. Her firsts international and multicultural experiences happened while she was a Girl Scout, which fueled her curiosity about the world's diversity and the meaning of "good deed". and motivated her to move to Belo Horizonte to study international relations.

Blessed with great opportunities, she's spent one year working in a social enterprise for youth leadership and empowerment in Thailand, learning about the different ways of life in Southeast Asia and developing a greater understanding of herself and her journey. While spending a couple of years in Peru, she's worked with several social projects promoting gender equality with kids and women from communities in social, political and economic vulnerability, and has pursued her master's in gender studies.

Patrícia is constantly seeking the best ways to create a positive and holistic impact through her actions, aiming to a better, dignified and just world for all. She's joined Amani to learn more about developing better and innovative projects and programs. Patrícia has over five years of experience working on the topics of social and gender inequalities, and women's and youth empowerment. She's presently a consultant in client relationship, impact and gender diversity at PrograMaria, a social startup that promotes events and workshops to enhance women's participation in technology.