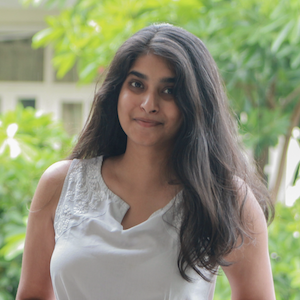 Say Priya Kodidala
Priya is a social impact consultant based out of India. She holds a Masters degree in Mathematics and a Bachelor's degree in Electrical and Electronic Engineering from BITS, Pilani. 
Over the years, she has been working with a range of stakeholders in the development sector including state and central governments, large philanthropic organizations, private equity firms, and startups across sectors such as education, health, nutrition, and sanitation. Previously, at PRS Legislative Research, her research focused majorly on agriculture and public finance, with an aim to strengthen the functioning of legislatures at the central and state level in India. Prior to that, she worked at IIM, Ahmedabad as a Research Associate focusing on 'EdTech in Developing Countries' in collaboration with the Massachusetts Institute of Technology(MIT) and funded by USAID. 
As her creative project, she founded 'The Telugu Archive' to rediscover Telugu literature, art, and history and also writes a fortnightly column for Firstpost exploring Telugu socio-political history through literature. 
She joined the Social Innovation Management program because she truly resonates with Amani Institute's core values of creating social impact and she is eager to learn and unlearn from a global community of changemakers.