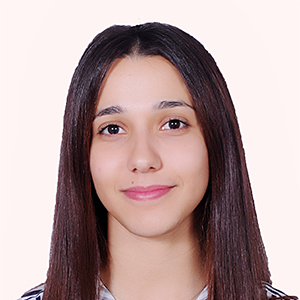 Selsabil Dkhil
Selsabil graduated from Tunis Business School with a Bachelor's degree in Science (BSc.),  Business Administration with a major in Finance and a minor in Information Technology. She decided to put her academic knowledge in service of the social good by joining EL Space organization, the first social innovation hub in Tunisia. She is currently working on developing programs that focus on empowering individuals and organizations via provision of resources and knowledge sharing for sustainability.
Previously, she worked as a country coordinator for Youth For Change (YFC), an Egyptian-Canadian program that supports youth from 10 different Arab countries in developing ideas that improve their communities, using ICT and social entrepreneurship projects.
In 2016, she was selected to participate in Study of the U.S. Institutes (SUSIs)  social entrepreneurship program, a fully funded scholarship provided by the U.S embassy in Tunis to study Social Entrepreneurship at  UCONN (University of Connecticut).
In 2017, Selsabil  was one of the beneficiaries of 2521 project on social entrepreneurship in which she took part in an intensive Training of Trainers in Marrakech, Morocco. She also participated in the Maghreb Youth Forum that gathered leaders of the Grand Maghreb to collaboratively draft a common vision of developing their countries and the whole region. In the same year, she implemented a social innovation initiative in her hometown called Innajem meaning "I can, just different" that aims to offer suitable vocational training to  mentally/physically challenged persons so that they can earn and lead a decent life through launching their own initiatives, as for example by producing and selling handmade traditional accessories.
Last year, she was selected to take part of NESA program on "Social Media Narrative & Countering Violent Extremism".
She decided to join the Social Innovation Management program at Amani Institute to expand her knowledge and to become  an active contributor to the social change process, empowering others.