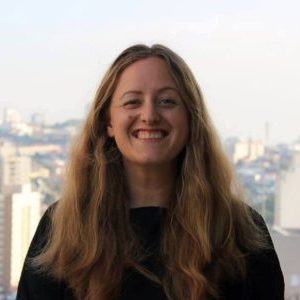 Sofie Carmlind
Sofie is an adventurer and a sustainability-enthusiast who defines herself as a global citizen and calls many places her home. From a young age she has had the privilege to explore different places in the world, and her time on the road has played a big part in shaping who she is today. Sofie is also a true extrovert, always optimistic and passionate about meeting, listening and helping other people.
Living by the motto that there is no day but today, Sofie has through her life explored many different activities in order to find her true calling. She has done everything from driving forklifts in warehouses, teaching Spanish in Guatemala to running an online campaign and managing a project to support trafficking victims. She holds a bachelor degree in Peace and Development studies at Uppsala University and is a recent post graduate in Social Innovation Management at the Amani Institute in São Paulo.
While she is trying to build her career within the world of food (which is a passion she discovered at Amani), working with food waste and workshops about sustainable eating, Sofie is currently engaged with International Communication and Sales at Vivejar, a community-based tourism company based in São Paulo.