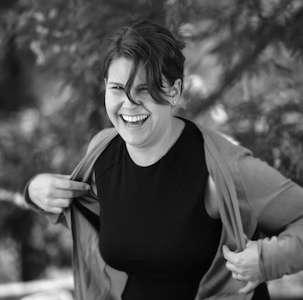 Health, impact measurement, Media and Communication, Public Health
Stephanie was born in Germany but started travelling the world from a very early age on. After some time in the US, Nepal, and the Netherlands, she moved to Kenya in 2012.
Over the years, Stephanie became passionate about health and inclusive health care.
Following some time as a physiotherapist, she started talking about sex for a living. At RNW Media's Love Matters, she played an essential role in setting up online platforms for young people to discuss topics around sex, love and relationships without shame and from a pleasure-embracing perspective. While working in this area, she discovered her love for data and translating data into stories.
After reaching millions of young people over the years, Stephanie was ready for a new challenge and joined Amani Institute in October 2019 as Monitoring & Evaluation Manager. Since October 2020, she is the Global Program Manager.
Stephanie holds a Bachelor's degree in physiotherapy, a Master's in Public Health and is currently enrolled as a PhD candidate in Public Health and Family Medicine at the University of Cape Town. Her research focusses on marginalised people, improving health access and provider attitudes. She is also an Amani Institute's Fellow, since she joined the Social Innovation Management program in Kenya, in 2015 (class 4).
Stephanie loves travelling, camping and cooking. She is teaching herself how to play the ukulele, loves true crime comedy podcasts and is a decent shot with her bow and arrows.