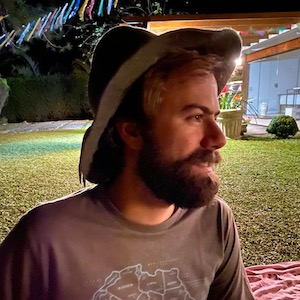 Thiago Grandi
As a Business Administration graduate, Thiago has 10 years of experience in financial markets, spanning across investment banking sectors, such as mergers and acquisitions, equity capital markets, and debt capital markets deals. During this time, he has worked for some of the most prestigious global banks, such as HSBC, Barclays, and Credit Suisse, and has had some of the largest Brazilian companies as clients, such as Petrobras, GRU airport, and EDP among others.
In mid-2016, Thiago decided to quit his job and travel around the world, mainly through Asia, Africa, and the Middle East. This enlightening experience allowed him to perceive the world from a varied lens and open himself to different ways of thinking.
In addition, during this period, he joined eight different volunteer work projects around the world, in countries such as Cambodia, India, Tanzania, Vietnam, Myanmar, and Malaysia. The projects were related to education, social inequalities, and environmental issues, through which he developed a passion to join and support social impact causes.
Now that he is back in Brazil, Thiago is motivated to look for a job in which he can combine his previous skills in the financial market and business with his newfound yearning to help construct a better world. Thiago is currently focusing his career on social impact business, ESG, sustainability, education, and the third sector.