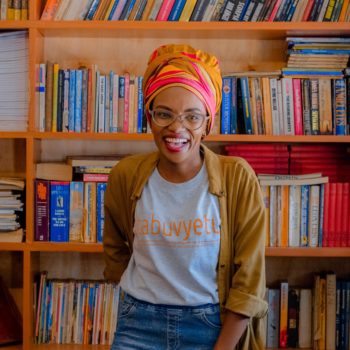 Wanja Kibuki
Founder, Vitabu Vyetu Foundation
Wanja Kibuki is a young vibrant lady who believes that everything in life has a solution to it and it is our noble duty as humanity to figure it out. Her charisma and positive action vibe led her to founding Vitabu Vyetu Foundation that equips underprivileged children with basic literacy skills in urban slums.
Her journey as a social entrepreneur began after an AIESEC based volunteer service in Addis Ababa, Ethiopia, where she was exposed to the reality of the plight of illiteracy and children lacking the basic reading and writing tools. After completing her volunteer experience, she realized that the situation was the same back home in Kenya while she was doing a school project that led her to Laini Saba in Kibera. It is at that point that she decided to make a change since she believes that all children deserve to be well equipped to build their futures and education is a very fundamental foundation for this. Together with 2 of her best friends, they founded Vitabu Vyetu and 3 years later, the impact has gone beyond Education to Economic Sustainability Projects and Mentorship Programs.
For her work, Wanja has received top recognition like; Top 25 under 25 Social Entrepreneur in 2015, appointment as a Global Youth Ambassador in 2016 and a S.O.M.A Humanitarian of the year Nominee 2017. Wanja enjoys reading, travelling and playing with her 2 German Shepherds, Brody and Roxy.
She has a Bachelor's Degree in International Relations majoring in Diplomacy and minoring in Public Relations from The United States International University – Africa.