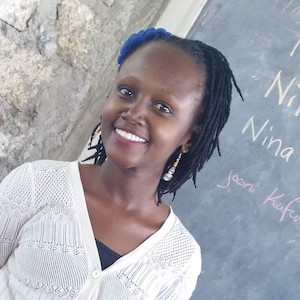 Wanjiru Olunga
Program Assistant, Edge Performance
Wanjiru is a Kenyan living in Nairobi who grew up in the coastal Citytown of Mombasa. Her passion for development started while volunteering with the Aga Khan Foundation, where she contributed to the setting up of mini-libraries in primary school classes. As an AIESEC volunteer in Dar es Salaam, she worked in the African Young Entrepreneurs project. 
 She holds an undergraduate degree in Economics and community development and a master's in Procurement and Logistics. She is an alumnus of the Young African Leadership (YALI) program, East Africa. Regional Center. 
She previously worked as a Registration Officer at the National Construction Authority for 3 years, Wanjiru she currently works part-time as a Program Assistant at Edge Performance, a start-up creating innovative and transformational human capital and workplace solutions. 
Wanjiru believes in the potential of African countries and would love to contribute to ending poverty in her generation. She hopes that through the Social Innovation Management program she will gain practical skills and the confidence she needs to pursue a career as a changemaker.