Changing the Culture of Feedback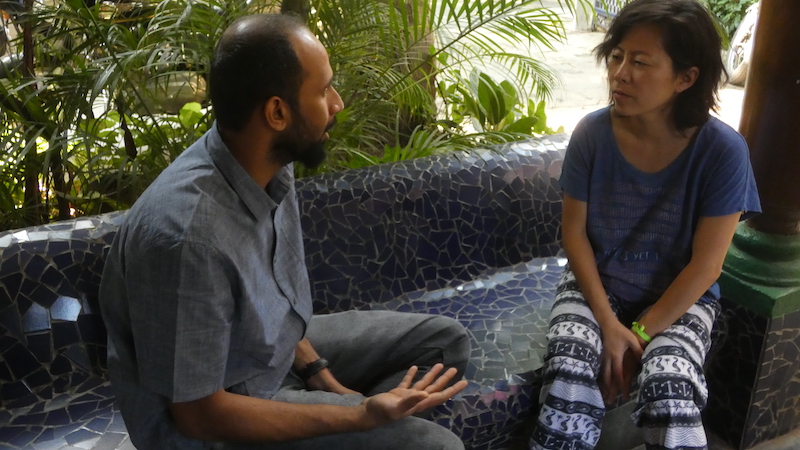 Imagine that I am your manager and I have called you into my room to speak with you. I then say to you: 'Your Name; I have feedback for you.' What is the first thought that comes to your mind? If your first thought is something along the lines of 'Oh no; what did I get wrong this time?', you match the response that a majority of the workforce relates to. In every single training session we have run so far, no matter what sort of organization it was for, the response to this question is usually feelings of anxiety, stress or even fear.

Why is it that most individuals panic when they hear the word feedback? From our interactions with organizations across the globe, we at Amani Institute have seen that feedback is usually provided once or twice a year, during performance reviews. And the word 'feedback' almost always is restricted to negative comments rather than for positive comments.

What happens when we start using the word feedback for both – positive (affirming comments about past behavior) as well as negative (corrective comments about past behavior) feedback? And what happens when these conversations happen regularly, and not only during performance discussions? When you ask any individual about the purpose of giving or receiving feedback, the answer is almost unanimously 'to help the other person to improve'. Reaffirming the intent of providing feedback and making sure that the conversations happen in a timely and frequent manner are some of the first steps in gradually changing the feedback culture in organizations.

Officevibe statistics strongly support the value of feedback: "four out of 10 workers are actively disengaged when they get little or no feedback;" 82% of employees appreciate positive and negative feedback; 65% of employees said they wanted more feedback; and 43% of highly engaged employees receive feedback at least once a week as opposed to 18% of low engagement employees.

But increasing the amount of times we provide feedback isn't enough. Ask any manager about their experience with the process of either giving or receiving feedback, they'll say that it's much easier for them to celebrate good work (though they may not do that very often) in comparison to correcting a mistake or explicitly calling out improvement areas. Especially with negative feedback, it can make us uncomfortable, nervous, angry, sad, frustrated or just plain unhappy. Think about this for yourself – how many feedback conversations have you been part of where you've felt appreciative of the conversation vs. where you've felt frustrated, nervous or sad?

One of the main reasons behind this is that the feedback has been delivered ineffectively. Let's take a look at the two examples below:
Your Name; well done with the team meeting today! Good job!
Your Name; the way in which you managed the team meeting today wasn't good. Make sure you get better next time!
Both the examples above are ineffective feedback; in both the cases what went well/wrong is not clear and neither are the next steps. Let's take the positive comment as an example going further.
The positive comment is more praise than positive feedback – managers sometimes default to this when they're trying to create a 'positive team culture of recognition' but they stop a step early. Yes, praise and a culture of recognition are good but how can we take that to the next level? See the statement below:
Your Name; well done with the team meeting today! The way you managed the conflict regarding office timings by making sure both sides felt heard was good. You mediated the discussion well and it left everyone feeling listened to. I'd love for you to continue this practice in all team meetings going forward. Good job!
The difference between the 2 statements is clear; the second sentence follows a model for providing feedback called the AID Model for providing feedback, which is referenced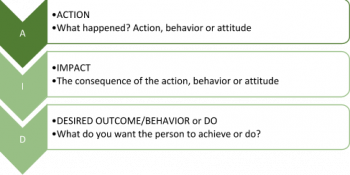 If the AID Model is followed diligently, it can significantly improve the quality and impact of the feedback process. As we've seen in the examples above, it is important for us to know not only what we did, but also the impact it had and what we can do in the future to improve or build on strengths.
The AID model provides this useful structure when giving feedback of any kind.
This also means that preparation is required before every feedback conversation – take some time to collect your thoughts and put them into this format.
We've taught this model at Amani Institute's award-winning Leadership for Growth program, aimed at building leadership and management skills in mid-senior managers of small and growing organizations. All managers who have implemented this in their respective organizations have mentioned a significant improvement in their feedback conversations because of this. So, the next time you're preparing for a feedback conversation, remind yourself of these simple steps and you're good to go! At the end of the day, it's important to remember that the intention behind feedback conversations is the development, strengthening or improvement of the other person – this is a GIFT and should be embraced.
Oh, and one last thing – I have feedback for you ☺ How did that make you feel now?
By Shehzia Lilani, Amani Institute India Country Director


This article is part of a knowledge series dedicated to skills that are particularly useful for Small and Growing Businesses. Check out the other articles from the series:

How to Get Your Money's Worth Training Your Staff
Capitalize on Your Strengths in Your Leadership Journey
feedback, leadership, Leadership for Growth, people management