Creating Social Impact with a Global Team – Lessons Learned from a Young Startup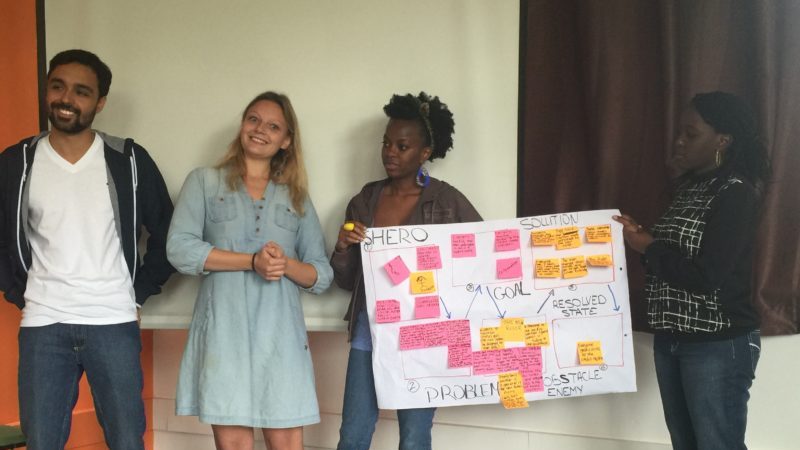 What does it take to build a social impact organization with a global team?
Our Fellow Rya Kuewor from Ghana is sharing some of his insights co-running Refugee Integration Organisation with Lucas Cruz from Brazil and Camille Diere from France.
---
RIO, shortened for Refugee Integration Organisation, is an organisation I co-run with Lucas Cruz and Camille Diere. RIO helps refugees in Ghana integrate into the Ghanaian society by using innovative methods in teaching English and Ghanaian cultural practices. Refugees in Ghana are legally allowed to work and live as ordinary Ghanaian citizens, but a great many of them (circa twenty one thousand (21,000)) have not been able to do so, not because they don't have transferable skills, but because they don't know the national language, which is English. We're currently operating in the Krisan Refugee Camp in Ghana.
RIO has partnered with the Ghana Refugee Board (GRB), BookBox, and very recently, with the International Centre for Social Franchising (ISCF). The current running version is to create a "plug and play" model that's replicable across other refugee camps in Ghana, and then later, across the globe.
One would imagine that after having worked in social entrepreneurship for a little over six years, I would have most of the obvious dos and don'ts figured out, but after having co-run a refugee integration organisation for nearly a year now, I've discovered, and this, not always in the most pleasant of ways, a series of things not to do.
For a bit of context, my team consists of three people (myself included), and we're all in different timezones; couple the differing timezones with the vicissitudes of our individual jobs, as well as periodic travels that we're on, and you have a fine cornucopia of missed appointments, forgotten deadlines, and unattended assignments. My core mistake, was to assume that since we all of us are social entrepreneurs, and are all very much in love with the work we're doing in the refugee integration space, the logistics and needs of our organisation would fall rightly into place, with everyone instinctively knowing what to do and when to do it. Quite the opposite was true. We would create a list of monthly, and sometimes weekly goals to get done, and not assign the said goals to anyone. Not doing that (role setting), and not attaching semi-strict timelines to our goals, often left us at the end of each month bewildered that by some design, none of us had done anything.
Another mistake we made, was to set monthly goals just for the heck of it. There was an unspoken air that with every month must come a good number of things to get done. We didn't assign priorities and the "realities of our period" to organisational goals; in our minds, we just needed to get things done, and whether or not it was systematic did not matter. By doing this, we ended up unnecessarily stressed over certain tasks that were in truth, not important at the time and we could/should definitely have done without. Something else that came as a good lesson and something to avoid, was not registering our organisation early. Very quickly, we began to make really swell traction, securing strategic partnerships from large organisations. One problem with that, we weren't legal (or on paper yet), and so that meant things like MOUs, according to the jurisdictions in the country we operate from, could not be signed. What saved us, was that we could have other documents like a Letter of Intent (LoI), and none-algal contracts and agreements for the time being.
In closing, my very humble advice to anyone else to whom this pertains, is, you may have a great team, but assign roles and timelines. In all honestly, deeply question your tasks/goals for your organisation before setting out to achieve them. And lastly, but by all means not the least, if you're able, get legal. Register your organisation. You may not be one hundred percent certain how things will pan out with it, but it seems to make the most sense to register when able.
I wish you all the very best in your worldworthy projects!
Author: Rya G. Kuewor, Co-Founder, RIO – Amani Alumni