Fail Faire 2019 Nairobi – The Art of Bouncing Back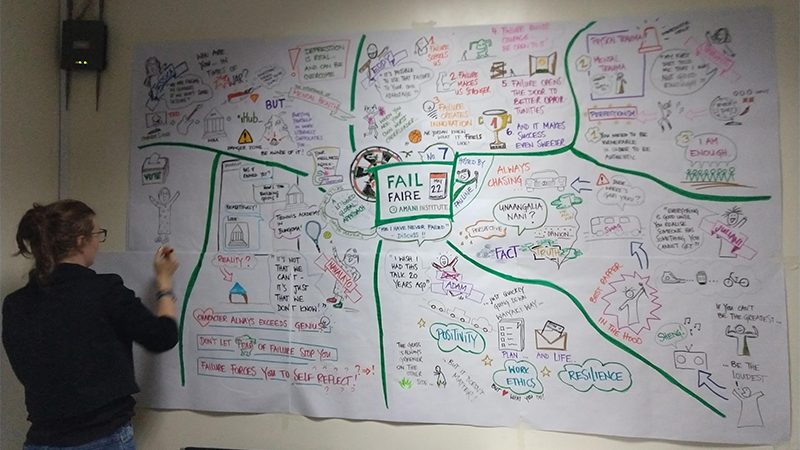 By Selsabil Dkhil, Amani Social Innovation Management Fellow (Kenya Class 10)

If you ask someone, or even Google about Thomas Edison, the first obvious answer will showcase all the inventions he developed – ranging from power generation to motion pictures. This is how we define great inventors and innovators – by their achievements. But have you ever wondered how these great achievers define themselves? If you Google many of the quotes attributed to Edison, you will notice that almost none of them describes the moment of achievement, the feelings at that moment or even the achievement itself. They are mostly about THE PROCESS OF ACHIEVING – a process that involves perspiration, discouragement, doubts and failure – but never giving up! Innovators define themselves by how well they rise after falling and failing.
Last month, Amani Institute held the 7th iteration of FailFaire in Nairobi. FailFaire's overarching goal is to remind us that achievements, invention and excellence are always the result of past difficulties, many false starts and alot of trial and error. Some of the speakers who graciously shared the experiences at the event were:
Jessica Colaço is an entrepreneur and TED fellow born and based in Nairobi, Kenya. She co-founded Brave Venture Labs in 2015 and was also co-founded i-Hub in 2010 with Erik Hersman. She is a bass guitarist with rock and metal band A.S.I.A – Always Summer In Africa.
Eddy Kimani – Media Personality and Businessman
For years, Eddy Kimani has been a mainstay in the Kenyan media. He has worked in a variety of roles both as a news presenter on TV as well as a radio host. These days he is a seasoned businessman and inspirational speaker of repute, focusing mainly on the topic of failure.
Stephanie Haase – PhD candidate and Amani Alumni
Stephanie Haase has a Master's degree in health sciences and is currently a PhD candidate at the University of Cape. She is also an Amani alumni. Seven years ago, she set up RNW Media's Love Matters Africa programme which provides young people with open, honest, and non-judgement information on sex, love, and relationships from a pleasure-friendly perspective.
Juliani – Musician and Entrepreneur
For nearly two decades, Juliani has been a mainstay in the Kenyan music scene. He fuses his raps with social commentary to inspire good leadership and citizen action. Juliani has also launched a wide variety of ventures to improve the welfare of the youth like Dandora Hip Hip City and Customer Bora.


A veteran of two stints in the Afghanistan wars with the British Army, Adam took to the corporate world after leaving the army. His experiences in the battlefront have fuelled him to maximise the opportunities he gets.

Navalayo was one of the first people to enrol in Amani Institute's prototype course in 2013. A huge sports fan, Navalayo has developed a sportswear brand, ENDA, channeling kenya's prowess in athletics as inspiration.

A common theme for the speakers was the fact that failure is not the end but rather a means to the end. Through failure, we get to filter out between the impractical ideas and optimal solutions to help transform society. Resilience was also a key attribute that was referenced by the speakers. What do you do when the effects of failure affect your motivation and resolve? How do you bounce back when in the doldrums after a major setback? There is an Aaliyah song with the line

"If at first you don't succeed (first you don't succeed),
Dust yourself off, and try again"

This is the attitude that we need to embody as changemakers. Never giving up and trying over and over, despite the setbacks that may surface till we get things right.

In a world in which everyone is striving for excellence, we tend to forget that excellence is never an accident. It is a process that has peaks and valleys. For us as changemakers, our life journey is very similar to that of the 20th Century inventors. It is a journey filled with moments of confusion, disappointment, and failure. No one said that our journey in changing the world is easy and straight! Our thirst, passion and excitement to improve the harsh realities of the world, may fade by all the challenges faced along the process! We might lose motivation, hope and faith. Most of the times, when we fail, we tend to think how others perceive us, rather then how we perceive ourselves, and hence we start comparing ourselves by those who succeeded. We need to embrace failure and use all our shortcomings to learn and better ourselves for the future.

Navalayo Osembo, one of the speakers summed the event up best with this quote, "Failure is just one less thing to do." failure, Kenya, SIM program