Social Innovation Management
The Post-Graduate Certificate in Social Innovation Management is a 6-month intensive global program where you will be learning by doing, train with master practitioners to unlock your potential, gain skills, and build networks for the career YOU truly want.
This blended program runs in English, with a 3-month Foundation phase online, followed by a 3-month Immersion phase in a global hub of Social Innovation. Due to the pandemic and restrictions on travel this version of the program is currently suspended.
Have you considered the Social Innovation Management digital edition of the program? We concluded our very successful first digital edition in December and have recently started the second edition with 32 Fellows from all over the world making our award-winning program even more accessible!
Whether you decide on the digital edition or the blended program, you can attend and complete the Post-Graduate Certificate in Social Innovation Management even if you are currently working.
---
This program is for you if:
You want your work to have meaning and impact and are a person with the courage, empathy, vision and determination needed to create change.
You want to:
---
The Program
Program Elements
Through this innovative program, you will gain both systemic and granular understanding of the social impact sector, build cutting-edge 21st-century skills with the help of global practitioners who are masters in the fields of Leadership, Entrepreneurship & Management, Communication, and Innovation while becoming part of an engaging global community of impact professionals.
The intensity and practical nature of the program mean that you gain as much in just 6 months as you would in a traditional 2-year Master's program.
You will also think deeply about your own goals and motivations, align who you are with what you want to do, and create a new strategy for your career.
10 skill-building courses from globally recognized master practitioners.
A 200-hour+ apprenticeship in a local organization (for those who are not already working) to immediately apply your learning on the job and make sense of the impact sector.
A wide range of networking opportunities to introduce you to the community of changemakers in the city of your immersion, with guest speakers, events, social gatherings.
2 intensive learning trips with your classmates to amazing destinations in your immersion country.
'Global dialogue' video calls with peers from other countries and webinars with Amani alumni to strengthen your connection to the community and learn from peers.
6 individual coaching sessions during and after the program to support you in accelerating your career.
---
Tentative Program Structure
Foundation Phase (12 weeks)
Online, no matter where you are in the world.
2-3 webinars per week, at fixed times and dates that will be announced in advance.
Independent remote work that will require an average of 10 hours per week.
Immersion Phase (13 weeks)
One 4-day trip at the beginning of the Immersion phase.
One 3-day trip at the end of the program.
Apprenticeship (for those who don't have already a job): 20-25 hours a week, usually from Monday to Wednesday or as agreed with the apprenticeship host organization, always compatible with Amani Institute courses
Skills Courses usually run every Thursday and Friday from 9:00 am to 5:00 pm and approximately two Saturdays per month from 9 am to 5 pm.
---
Certifications and Accreditation
---
Awards
---
Who we are looking for
Diversity is one of the foundations of the Amani experience. The vastly different backgrounds of our Fellows are critical to the program, which thrives on the stories and perspectives they bring with them.
While we look for diversity in terms of personal and professional backgrounds, all of our Fellows go through a competitive selection process and share the Amani values.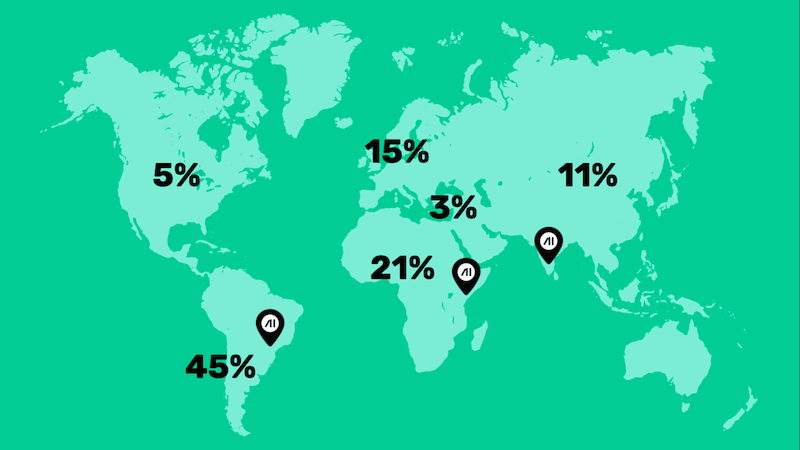 Formal requirements
A university degree (undergraduate/Bachelor's) OR
At least two years of practical experience (either working or volunteering) in the social sector.
Alignment with our core values: Vision, Courage, Empathy, Changemaking and a Global Mindset.
---
Learn About Our Alumni
You can check the full list here
---
Costs and Scholarships
Your Investment
Program Cost: USD 7950 (including a non-refundable deposit of USD 1000 upon acceptance into the program).
Note: This fee does not cover your airfare and entry visa to Kenya or Brazil nor your daily expenses while there. Living costs can vary widely depending on your lifestyle choices. Our monthly estimate for living costs for an international Fellow is around 800$ in São Paulo and Nairobi.
What You Get
Scholarships
Amani Institute understands that the cost of the program may still be difficult for some of our participants. As a result, there will be limited financial aid available in extreme cases of need. Please note that any scholarship offered only covers the cost of the Program. We do not sponsor airfare and housing.
---
Videos and Pictures
Watch this playlist to learn more about the program
A Glimpse Into Our Classes
Our learning approach is project-based, working in teams – like how work actually happens in the real world. The content is always built on real world case studies, both local and global examples. Close interactions with leaders and role models in the same field as well as peer-coaching are part of all our classes.
Faculty and Guest Speakers at Amani
Our faculty has included a Nobel Peace laureate, experts in leadership development from McKinsey & Company, an award-winning documentary producer, a leading foundation director, and many others.
Life in Nairobi, and São Paulo
What is it like to live in Nairobi, Kenya or São Paulo, Brazil? These emerging hubs of social innovation offer a rich cultural offering and both countries feature some of the world's most amazing natural beauty.
Getting to Know the Social Change Sector
Field trips and apprenticeships in Social Enterprises or NGOs can show you the vast opportunities in the social change sector and what it takes to actually make change happen.
Diversity
At Amani Institute people from all over the world come together to learn. We are proud of the diversity represented in our team, Fellows, instructors and guest speakers!