Creating a World without Boundaries for Young Kenyans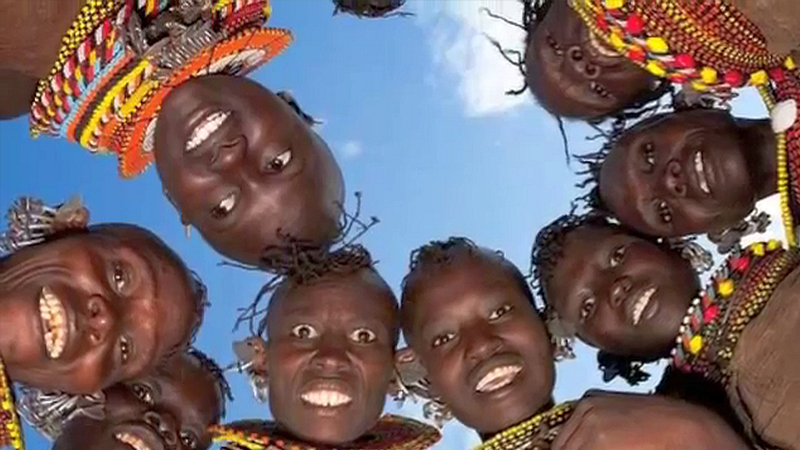 This post was written by Loubna Sadiki, currently a student in our Certificate in Social Innovation Management program. Originally from Morocco but living in the United States, Loubna is passionate about addressing climate change and sustainable development.
"Motivational sharing is like the 400m relay in track and field. You share your success experience, inspired youth, then they, take the initiative to motivate other people".
This was a remark by Wilson Masaka, my classmate at the Amani Institute and one of the workshop organizers. Wilson is also a peer motivator and the founder of Wilson Initiative. On Saturday August 10th, my classmates, the Amani Institute students Rocio Nadal (Mexico), Mily Dallacamina (Argentina), Wilson Masaka (Kenya), Jabari Smith (USA) and two other Kenyan youth were part of the Wilsen Initiative program to meet the local Kenyan youth at the Loco Health Center for a motivational workshop.
The workshop mobilized HIV positive patients from the health center and students from the neighbouring Kenya Polytechnic University. Wilson and Jabari, organizers of the workshop, invited their classmates as guest speakers to share their stories of trails and success. The purpose of the workshop was to motivate these youth and show them that they can pursue their dreams through 4 themes:
Navigating the Road Ahead: Career & Life Skills (Mily)
Your Wound Is Your Gift: Overcoming Obstacles (Wilson)
The Brand Within: Identifying Passions, Skills, Talents, & Interests (Jabari)
The World Is Yours: Study Abroad, Travel, & Cross-Cultural Connections (Rocio).
For Rocio, working in Kenya was a childhood dream that she had for many years, insisting that "it doesn't matter how long it will take you to achieve your dream, just don't lose hope," she explains. As for Mily, she has experience in working with youth in Argentina and Angola. For her, there are many similarities between the youth in Argentina and the youth in Nairobi. Despite the cultural background differences, both are open to taking part in new activities and want to learning. She clarifies: "We all have differences but we all have dreams."
All 4 students used the skills they have learnt during their weekly classes at the Amani Institute. One of the entrepreneurial skills that Rocio shared with the youth is to be humble "to never give up, share your idea and maybe you will receive insightful feedback that will push you forward in your career." Public speaking and storytelling helped Mily during her speech. Jabari, who just completed the Summer Semester in Social Entrepreneurship Program alum, used social innovation concepts and team building training to help him strengthen his skills as a speaker and facilitator during the workshop. By the end of the workshop, the Kenyan youth started to reframe their existing social issues differently in order to find the best solution to the challenges they face. The workshop's success led to a decision by the Amani students to organize another workshop at the same venue with a bigger audience – and maybe make it a periodic activity. These kinds of actions are highly needed in Kenya. As a non-Kenyan young woman, I have noticed that many teens have lot of potential; yet, the government isn't using sufficient means to motivate them. While I was in Busia, a rural area in Western Kenya, I learnt that teens, after finishing high school, don't have much choice of picking the field of study they would like to pursue, "It is what's offered to you" said an adolescent who wanted to study Business Administration as a major but ended up studying biology because it was imposed on him by the academic system. In addition, despite the fact that Kenya is a hub for entrepreneurs, the country is still facing issues of corruption and tribalism. A young person looking for a job might not be hired if they don't belong to the same tribe as the person recruiting them. All these issues discourage young Kenyans from pursuing their dreams. I am an Amani student, and one of the reasons I chose this program is because I want to learn how to be a social change maker in a country like Kenya. I couldn't be more proud of my classmates who conducted this workshop. Thanks to the invaluable skills acquired through the Amani Institute, its students are already making a positive difference to the lives of others in the greater Nairobi community. Finally, click here to read the blog post by the organizer, Wilson Masaka, about the event.