How will positive change happen in the future?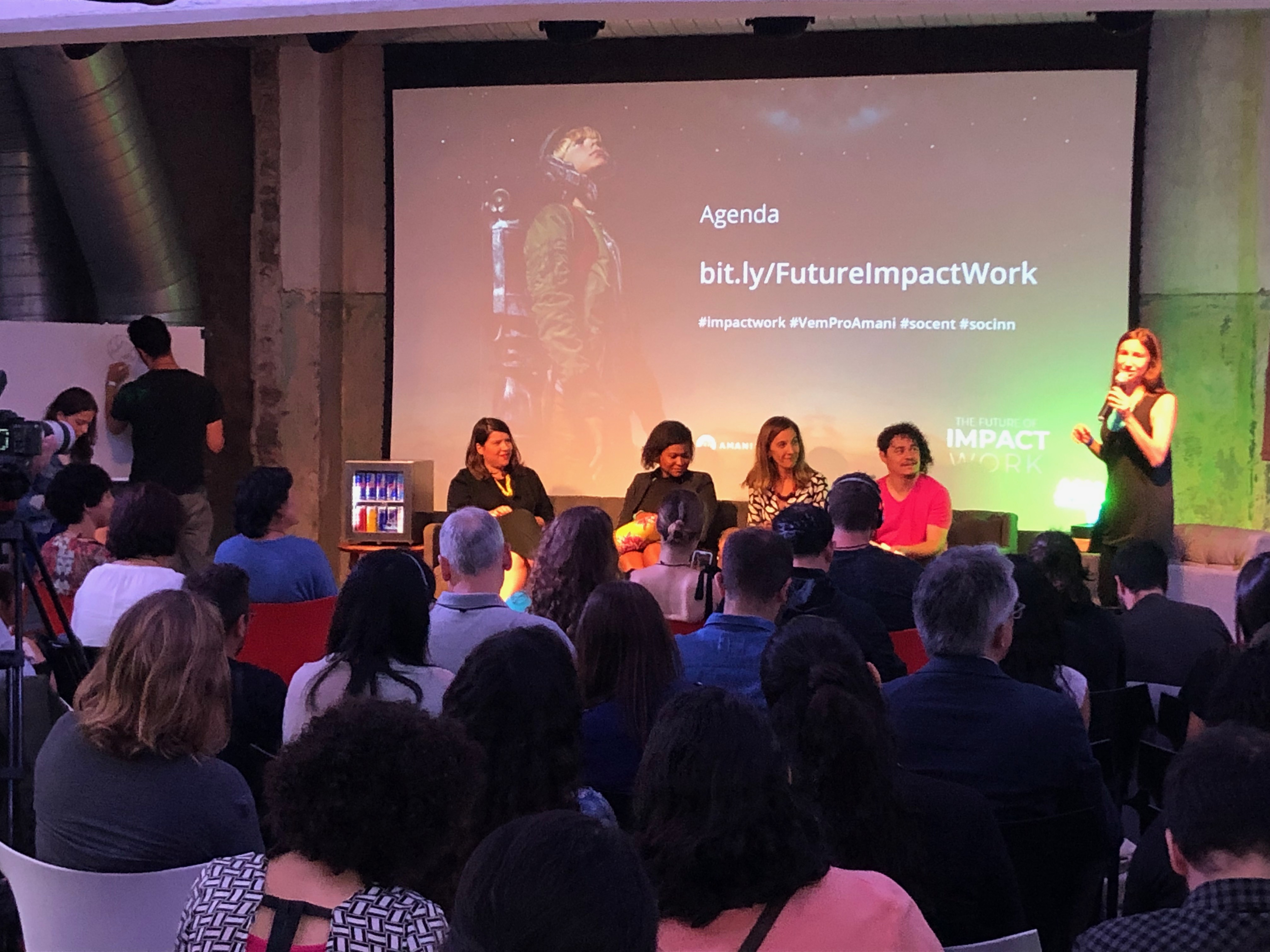 If there's one thing that all experts and practitioners strongly agree on, it is that we all, as individuals, need to take agency. Now.
It doesn't matter if we are working in the social, public or private sector. "Whatever we do in our job and in our life has an impact. We just need to decide if we want to have a positive, negative or neutral impact", Tony Marlon, founder of Historiama said during the Long Conversation that opened an engaging day of learning and reflection about The Future of Impact Work, on February 5th in São Paulo, Brazil.
This was a unique event Amani Institute organized in his 5th year of activity in the country. RedBull Station, the former electricity station the middle of the megacity that hosted the conference, looked like the perfect location for a full day event that has infused new energy among the participants. More than 350 people from all over the world joined the conversations in person, and many more online following the hashtag #impactwork. The rhythm of the day was intense, with plenary panels and creative break-out sessions, workshops, talks, and opportunities for meaningful networking, from 10 am to 9 pm.
When Ilaina Rabbat, Amani Institute Co-Founder and Executive Director, opened the day introducing the first group of speakers, it was immediately clear it is going to be a day like no other. No self-celebration, no easy solutions, no sugar coating.
How you define impact? How do you measure success?
Straight to the point, Tony asked Lisiane Lemos, Founder of BAM (Blacks at Microsoft), recognized by Forbes as one of the leaders under 30 who make a difference in Brazil in 2017 as well as one of the most influential black women in the world by MIPAD in the category of business and entrepreneurship.
"It's all about how much you change people lives. It's no longer possible to work for the corporate world without considering the impact you are having, without thinking about changing society. You can't work only for money. No one can ignore this. For example, people in marketing and advertising must reflect on what message is sexist or not diverse enough. We, as corporations, have to define how we have a purpose in society. We all need to have a mission to empower people. There's a huge challenge ahead of us. We have the power to create transformational change in institutions and Governments to enable a more inclusive future that allows people to fulfill their purpose. And we need to challenge markets and organizations to be more inclusive. We need to enable more people like me, a black Afro-Brazilian, to speak on a panel like this.
"We want the challengers, the misfits, those saying what they want!"
"We were used to having a department of social responsibility. In a few years, there will be no more departments, because it will be the overall social value of a company"- Tony confirms. He is focusing his work in Brazil to change narratives and open space for new relationships within society.
Employees will no more be only executors of a strategy, they will co-create missions and plans and hold their company accountable, they will provoke further change from within and push corporations to do more. No more brand- washing is possible when employees take responsibility!
What does it look like to move from the private to the public sector, how can the social, public and private sector cooperate?, Lisiane asks Tâmara Andrade, Director of the Public Management Trainee Program at Vetor Brazil.
"First of all we need to acknowledge the role that each sector plays, Tâmara explains, having experiences in all the three sectors. "When you design a public policy you affect millions of people, so we need to recognize the role of institutions. The government that looks like a big old ship needs to recognize the velocity of the private sector that is a speed boat. The volunteer sector is connecting all of this, is doing the trial and error work that that public and private sector can't afford to do". But this is not enough, Tâmara says."When the three areas are working together we need to clearly define our objectives, how we communicate and how we will reach our target. Even more, we need to ensure diversity is part of the challenge in each and every sector. If you want to succeed you need to be inclusive from every perspective (gender, race, sex, ideology…)".
Tony builds on that and recommended: "We can only talk to everyone if everyone is talking. It is not about having a voice, is about building places where all voices are heard".
There's a tremendous value in working together. "Each time we talk with people, we find new ways to do things. We see groups, collectives, working together beautifully. We can't always replicate what other people are doing, but talking to each other we can find ways to do our things better, in new ways", Rachel Añón, the co-founder of PonteAponte, says: she facilitates bridges between investors and social entrepreneurs to amplify social innovations.
"We still associate people that are working for change as saviors, like lonely heroes. But only if we are united, we can make things happen. How lucky we are to be in a space where we are creating the future!" – she adds looking at the audience. "You have no idea what it means to me to start my 2019 with this diverse group of changemakers. 600 people registered to be here today, this is amazing, this means we can do things differently today. If people are here, it means they have a special calling. We can't talk about this moment without recognizing each of us as a political being. There is no non-political being. It's different from belonging to a political party, but when we choose a cause to fight for, we have to be crystal clear on what we are ready to do".
"Whatever we do in our job and in our life has an impact. We need to decide if we want to have a positive, negative or neutral impact". But in this age of extreme climate change, unsustainable business and violent political discourse, just being neutral is not really an option anymore.
Amani Institute, Brazil, social impact