Leadership for Growth – Kenya
This is a 6-month, modular, training & development program to build business and leadership skills in managers across East Africa. It is an inspiring and highly engaging learning program combining classroom-based courses, business application, online learning, as well as a strong emphasis on networking.
Since its inception in 2017, the program has trained 154 middle and senior managers from 58 Small and Growing Businesses in East Africa. Nearly one in three companies that send one manager to this program end up sending more managers after that – a testament to the program's effectiveness.
The Argidius Foundation and the Aspen Network of Development Entrepreneurs (ANDE) declared Amani Institute the winner of the Argidius-ANDE Talent Challenge (AATC) because this award-winning leadership program provides an innovative and highly effective leadership development solution that creates value for Small and Growing Businesses (SGB) that leads to immediate improved business results. Thanks to this recognition we are now scaling this program globally - renaming it Leadership for Growth - with courses running also in India and Brazil.
IMPORTANT NOTICE
Due to the corona virus and the subsequent precautionary directives from the Kenyan Government, the start of the next Leadership for Growth Cohort has been indefinitely suspended. The cohort, initially scheduled to start in May 2020 , will now start at a date to be communicated later. However, you can still nominate your managers to join the next cohort, which will start soon as the restrictions are lifted.
Next Program 8 May 2020 – 24 Oct 2020
Rolling Applications Apply Now
Location Nairobi, Kenya
Participants 25
Language English
---
About The Program
Who is it for?
Senior and middle managers in small and growing businesses (SGBs)

Locations
Kenya

When
The next program is starting in May 2020 in Nairobi, Kenya. All class dates above will be on Friday and/or Saturday in 2020. 
Program Schedule 
Kenya Cohort 12
Module 1 Leading Self: 8th and 9th May 2020
Module 2 Leading Others: 12th and 13th June 2020
Module 3 Leading the Business: Part 1: 17th and 18th July 2020
Module 4 Leading the Business: Part 2: 28th and 29th August 2020
Module 5 Impact Showcase: 24th October 2020
What are the benefits for your organization?
As an employer you can expect:

Immediate business results as your staff have acquired the business and leadership skills to manage the organization both in the present and in a rapidly changing future.
An efficient manager development solution that doesn't take your manager away from the business.
A local option to learn best practices from the cutting-edge of global leadership and management thinking, at affordable, Kenyan prices.
A solution to retention challenges through having more engaged employees in a changing workspace.
Demonstrated proof of your commitment to talent development.

Your managers will:

Gain essential business and leadership skills including strategy, systems thinking, innovation, team development.
Take advantage of a highly interactive, hands-on curriculum designed to transfer their new skills to their day-to-day job.
Implement a business innovation project that will create a direct positive impact on your business.
Develop a peer network across East Africa.
---
Why This Program
Small and growing businesses (SGBs) are global engines of shared prosperity: they drive growth, promote sustainability, and support equity around the world.

However, unlike many medium-sized companies, SGBs often lack access to the financial and knowledge resources re'quired for growth. Further, many SGBs are faced with a "Talent Challenge", a finding that also gets highlighted in the ANDE Impact Report: "Once SGBs have reached a certain size and maturity, often their biggest challenge is building a team that is able to manage their next step to scale. Recruiting the right candidates, developing current staff, and retaining the team are all key challenges."

Further, as another report Education for the 22nd Century points out, there are gaps consisting of soft skills such as determination and decision-making, communication skills, leadership and management, entrepreneurial and critical thinking, and the ability to work in a team.

Amani Institute developed this program to address this challenge by focusing on leadership and management skills for middle and senior managers, with the aim to develop the skills necessary to manage SGBs both in the present and in a rapidly changing future world.
To learn more, contact Nzilani at [email protected]
---
Curriculum
Three core pillars
The program aims to develop mindsets, skills, and knowledge required to create positive impact across three levels: self, team, organisation. This is reflected on the three pillars of the program.
We also offer additional elective courses over the duration of the program where participants can select from a diverse range of evening classes which one they can participate in.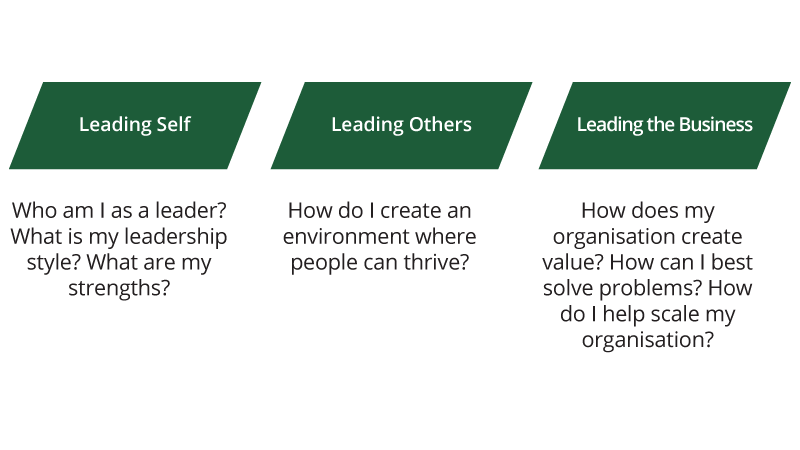 ---
Program Structure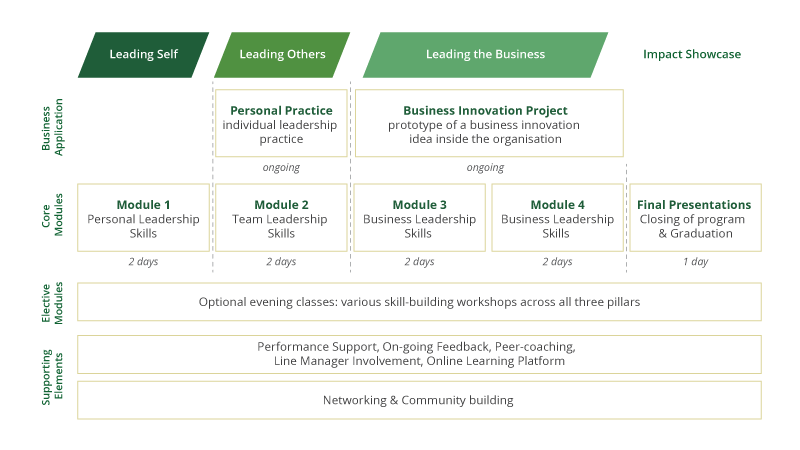 Not sure what your time through the program will look like? Check out this program outline.
DOWNLOAD PDF (KENYA)
---
What Makes The Program Unique
Focusing on Business Outcomes The program aims at facilitating improved business outcomes, not just learning outcomes. We work with individuals to strengthen the results of their business innovation projects.
Delivering for Application Because learning only creates value when applied, our solution is designed to facilitate on-the-job application. The practical nature of each session allows participants to apply what they have learnt, based on immediate needs within the organization. Our methodologies are focused on experiential learning and hands-on experience.
Combining Expertise, Experience & Insight It is comprised of the three interlocking pillars of building professional expertise, on-the-job experience, and personal development.
Do you want to learn more from past participants? Watch this video:
---
Application
All potential participants need to be nominated by their organization first. 
The nomination form for Kenya Cohort 12 can be found here. Upon receiving the nomination form, we will then send you further instructions on how your employees can apply.

If you are an employee and would like to participate, please contact [email protected]. 
Admission to the Leadership for Growth program is selection based. All completed applications will be assessed based on the program's criteria for admission. (see section on eligibility above)

The participant application takes about 20 to 30 minutes to complete. It requires personal and professional information. Applications will be reviewed on a rolling basis, so we recommend that you apply early.
---
Program Costs
Program Fee
The program fee for participating organisations in Kenya is KES 99,000 (VAT exclusive) per person. Discounts are available for organisations sending multiple employees. It is worth noting that the cost of the program at market rates is approximately KES 500'000.

The Leadership for Growth program is partially sponsored by the Argidius Foundation.
For further information, check out our FAQ section. 
---
Frequently Asked Questions
---
SOME OF OUR PAST CLIENTS